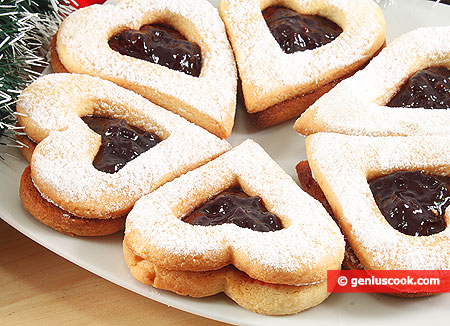 The Linzer Cookies Recipe
The cookies were named after the Austrian city of Linz. It was there that the recipe of this wonderful dough was born. The cookies are made from the same ingredients as the cake but in a different form.
Linz Cake is a world hit, the most famous Austrian cake.
The first recipe dates back to 1653. In 1823, confectioner Johann Konrad Vogel started a successful mass production of the cake. Due to his business grip, the cake became world-famous, and many even credit Vogel with this invention.
The classic filling for Linzer cookies and the cake is black or red currant jam. The fresh sourness of these berries makes the taste livelier, and, besides, red is visually more attractive. Over the centuries, the recipes included quince, raspberry, cranberry, plum and peach jam.
It is best not to eat the cookies fresh out of the oven, but after 3 days at minimum, or a week ideally. Filled with jam, they soften during storage and become very tender and tasty. Linzer cokies have a crumbly texture with a subtle lemon flavor. They are moderately sweet.
Ingredients for Linzer Cookies
Flour: 330 gr.
Ground peeled almond (or hazelnuts): 200 gr.
Butter: 220 gr.
Finely ground sugar: 150 gr.
Zest of 1 lemon.
Ground cinnamon: 0.5 tsp
1 Egg.
A pinch of salt.
For the filling: currant jam (or any other)
Powdered sugar for sprinkling.
Recipe for Linzer Cookies
Whip butter with sugar. Add salt, egg, lemon zest and cinnamon. Whisk together a few minutes more.
Add flour with almond; knead the dough. Leave in a cold place for 1-2 hours.
Then roll the dough. Make the same number of full cookies and those with a cut-out center.
Put the cookies on a baking sheet with parchment and bake 15 min. at 356 F (180 degrees C).
When the cookies are cool, sprinkle the top ones with powdered sugar.
Spread some jam on the lower cookies and sandwich the two together.
https://geniuscook.com/wp-content/uploads/2014/01/Biscotti-LINZ1.jpg
326
450
Elena and Alfredo
https://geniuscook.com/wp-content/uploads/2014/02/gc-logo2.png
Elena and Alfredo
2014-01-05 16:27:20
2014-06-26 13:13:42
The Linzer Cookies Recipe