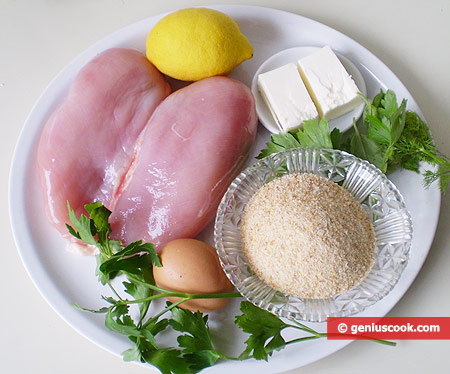 Making Famous Chicken Kiev
The popular Chicken Kiev supreme are made from chicken breast with a pat of butter inside. If cooked properly, the cake is juicy and delicious, with flavorful butter sauce oozing out when you cut it.
Probably, Chicken Kiev was not actually created in Ukraine. There are various stories on the origins of this taste dish. One tells that it was created by a French chef in the Moscow Merchants' Club, then renamed Chicken Kiev, when later served in Russian restaurants all over the world.
Although, for us it is not so important, because we just want to enjoy the taste of good food.
Ingredients for Famous Chicken Kiev 2 portions
chicken breast
0.01 lb butter
greens – parsley, dill, basil, can be clove of garlic: all to taste
1 tablespoon lemon juice
1 tablespoon grated cheese
an egg
salt, pepper: to taste
flour and dry bread for coating
oil for frying
Recipe for Famous Chicken Kiev
First prepare green butter: chop greens finely, mix with soft butter, add grated cheese of any kind, lemon juice and a pinch of salt. Mix everything well and shape the butter into 2 rolls. Wrap them into film and put away into the fridge.
Divide the breast into large and small fillets.
Give them a good beating-up with a hammer through a film, but try to do it carefully so as not to break up the fillets.
Put the cold butter on the middle of a large fillet piece, salt, pepper.
Place a small piece of fillet on top and wrap it up in large piece so it will look like an oval patty cake. If there is a bone, it had better be on the outside.
Roll the resulting patties in flour, then in eggs and finally in coating crumbs. When the coating has been done properly it will keep the butter inside during frying, which is important.
Let the patties stay in the fridge for 10-15 minutes, then dip them into egg once again and again into crumbs.
Fry quickly on well-heated oil until they acquire a nicely brownish crust, on all sides.
Take the patties off heat and put them into the oven for 10 minutes at 356 degrees to make them done inside.
Serve hot.