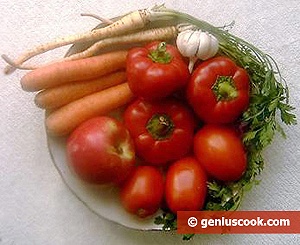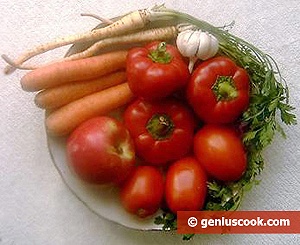 Adjika is a sour-sweet sauce with sweet peppers. You can prepare an excellent flavored sauce with bright red vegetables. It lets you use less salt for the food preparation, which is good for hypertensive patients.
It is very important, that this sauce can be eaten fresh and without losing any useful properties of the ingredients. It is fast and simple to prepare, it can be prepared for future and kept in a fridge for a long time.
Adjika can be added to various dishes, soups, borsch, pastas, porridges, meat, fish, mushrooms to make the taste even better.
The sauce can also be eaten with bread or crackers to your taste. It is also recommended for children to stimulate the appetite and enhance health, because this sauce contains many vitamins, minerals and cellulose. This is also the reason, why Adjika is good during dieting. If you lack any of the ingredients listed above, you can prepare Adjika without it. You can always improvise with this sauce.
Ingredients for Adjika
200 g. Sweet Pepper
120 g. Garlic
200 g. Carrot
200 g. Apples
100 g. Parsley root
200 g. Tomatoes
50 g. Wine vinegar
Sugar
Salt
Preparation of Adjika
Wash and peel all ingredients, cut them into large pieces.
Mince the ingredients in a mincing machine.
Pour the entire mixture in a bowl.
Add wine vinegar.
Add sugar and salt to taste.
Mix everything together and the sauce is ready.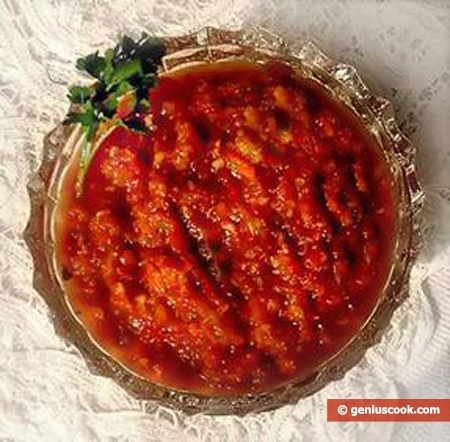 https://geniuscook.com/wp-content/uploads/2007/11/nabor-dlia-adjiki.jpg
245
300
Elena and Alfredo
https://geniuscook.com/wp-content/uploads/2014/02/gc-logo2.png
Elena and Alfredo
2007-11-05 16:37:25
2014-01-27 19:25:11
Sauce Adjika