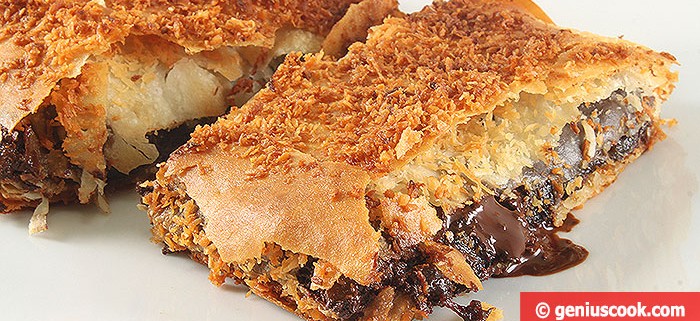 Puff Pie with Chocolate and Prunes
Try to cook crispy puff pie (or cake) with chocolate and prunes, and your family will be very grateful.
Chocolate and Prune is a great combination, give rise to a stunningly gorgeous deep flavor that is in harmony with the finest crispy layers of filo dough.
If you do not have a ready filo dough, you can cook it according to the recipe for Strudel Dough.
Ingredients for crispy cake with chocolate
Filo (phyllo) dough: 100-150 g.
Chocolate: 100 gr.
Prunes: few pieces, if desired.
Coconut shavings to sprinkle: 4-5 tbsp
Melted butter for greasing the dough layers.
Recipe for crispy cake with chocolate
Dough deploy and oiled each layer, superimposing them on each other.
Also, each layer should be sprinkled with coconut shavings.
Make about 4-5 layers or more.
Put in the center a bar of chocolate, prunes on it, sprinkle with more coconut.
Wrap the dough from all sides, forming a cake shaped chocolate bar. Pinch the edges.
Top more good grease with butter and sprinkle with coconut shavings.
Make several punctures with a fork on the surface of the dough. Thus, the cake will not swell, during baking.
Bake for about 10-15 minutes at 180C in a pre-heated oven.