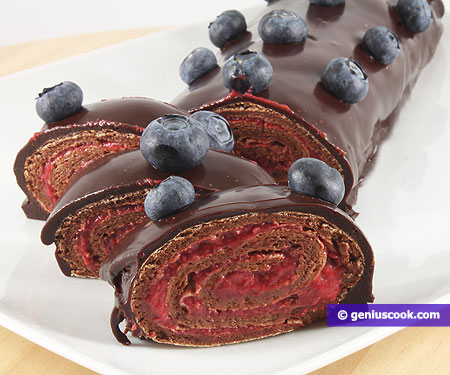 Chocolate-meringue roll with strawberries
It is a surprisingly gentle roulade made of whipped egg whites with cocoa and berry filling, covered with chocolate icing. It is a real treat.
Try it, we think you'll like it too.
Ingredients for Chocolate meringue
3 egg whites room temperature, aged 3-6 days.
150 gr. caster sugar.
Cocoa: 1 tbsp
A few drops of lemon juice.
A pinch of salt.
Half a teaspoon of cornstarch.
For the filling
200 gr. frozen ( or fresh)

wild

strawberries
1 tsp cornstarch
A few drops of lemon juice
For the coating
Dark chocolate 70-75%: 100 gr.
Leaf gelatine: 2 plates or 4 gr.
Butter 25 gr.
Cold water 5 tablespoons
Fresh blueberries for decoration.
Recipe for Chocolate-meringue roulade
Defrost strawberries. Mash berries with a few drops of lemon juice and cornstarch, bring to a boil.
Beat the egg whites with salt until stable peaks, gradually adding sugar. In the end, add a few drops of lemon juice, cornstarch and cocoa. Whip more
about a minute.
Place a parchment on a baking sheet and sprinkle with flour. Using a shovel, spread the whipped egg whites evenly. Height of the layer of about 0.5 centimeters.
Bake for 20 minutes, 320-338F (150-160C). Watch the baking process carefully, because a half-baked meringue won't come off the parchment and an overdried one will break when rolling.
Take out the meringue and let it cool without removing it from the parchment.Then place on top another parchment, and turn it over. Remove the parchment on which the baked meringue.
Spread a thin layer of berry puree all over the surface, and leave so for 15 minutes
With the help of parchment, roll a roulade putting it on a dish pinched side down.Crop the uneven edges.
For the glaze – melt chocolate with butter and soaked gelatin in water. Cover roulade with chocolate icing, decorate with blueberries.
Put in refrigerator for 2 hours and you can eat.
https://geniuscook.com/wp-content/uploads/2014/02/rulet-pronto.jpg
375
450
Elena and Alfredo
https://geniuscook.com/wp-content/uploads/2014/02/gc-logo2.png
Elena and Alfredo
2014-02-20 10:01:30
2014-06-26 05:07:16
Chocolate-meringue roll with strawberries