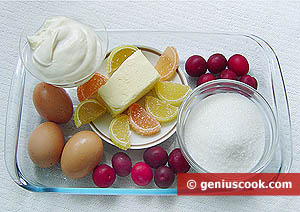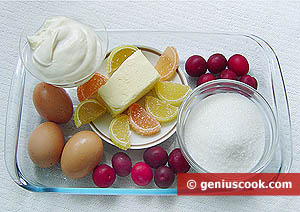 Try this yummy and soft cake with marmalade and meringue soaked with fruit syrup. Sourish plums and sweet airy cream marry well with each other.
Sometimes we want to enjoy something sweet. Fresh homemade cake is always better than store-bought because you use only natural ingredients.
Though cooking process is fussy and time-consuming, your relatives and kids will appreciate your efforts.
Ingredients for Marmalade Cake
300 g marmalade
50 g cashew nuts
Ingredients for Meringue
6 egg whites
1.5 (350 g) cup sugar
3 tablespoons sugar powder
Few drops lemon juice
Salt
Ingredients for the Cream
1 cup (250 g) 30-35% fat sour cream or cream
200 g sugar
Ingredients for the Syrup
200 g plums
3 tablespoons sugar
Ingredients for the Crusts
½ cup (100 g) sour cream
200 g butter
6 egg yolks
200 g sugar
1/2 teaspoon baking soda
1 tablespoon vinegar
Salt to taste
1.5 (350-400 g) cup flour
Recipe for Marmalade Cake
First, make meringues using our recipe or use ready-made meringues.
For meringue crusts, whip the egg yolks with sugar until white foam.
Add soft butter and sour cream. Whip everything well.
Mix baking soda with vinegar and add to the mixture.
Put flour and blend with a mixer at medium speed.
Blend until thick pastry. If the pastry is watery, add more flour.
Then coat a baking sheet with oil and dust with breadcrumbs.
Pour the pasty evenly over the baking sheet.
If the baking sheet is large, bake the whole crust and then cut in along.
If the baking sheet is small, bake a few crusts.
Bake in a preheated oven at the medium temperature for 30 minutes.
Make sure not to overcook the crusts.
While the crusts are baking, make a cream.
For the cream, just whip sour cream with sugar.
For the syrup, wash plums or any other fruits available, remove stones, sprinkle with sugar and boil.
When the crusts are cool, pour them over with unstrained plum syrup.
Top soaked crusts with broken nuts and put marmalade evenly.
Then, spread marmalade with cream and top with the next crust. Repeat the process until all crusts run out.
On the upper crust topped with cream put meringue and marmalade pieces.
Or garnish the cake to up your taste and fantasy.
https://geniuscook.com/wp-content/uploads/2009/01/marmalade-cake-ingredients.jpg
212
300
Elena and Alfredo
https://geniuscook.com/wp-content/uploads/2014/02/gc-logo2.png
Elena and Alfredo
2008-07-25 05:00:07
2014-03-30 18:23:34
Marmalade Cake