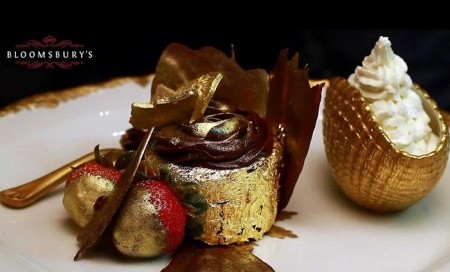 The Most Expensive Chocolate Cake
Arab Emirates cooks from a Dubai café Bloomsbury came up with the most expensive cake dubbed the Golden Phoenix. It is covered with 23 carat edible gold and is completely eatable.
The Arab confectioners used the best quality ingredients they could find on the globe: British natural organic flour, organic butter (also coming from Britain), Italian chocolate Premium Amedei Porcelena Cocoa, handpicked high quality vanilla beans from Uganda, and an edible 23 carat gold sheet.
Naturally, the creators keep the whole recipe of the culinary masterpiece secret, but those willing can give the taste and the looks of the chocolate cake a try. It is served with chocolate-coated strawberry sprinkled with edible gold dust, and with chocolate cream.
The exquisite cake is worth $1,000.