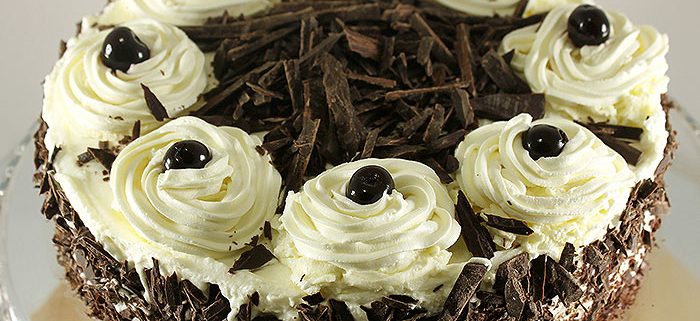 Black Forest Cake (Schwarzwälder Kirschtorte)
It was invented in a beautiful corner of Germany – Schwarzwald, translated as Black Forest.
The recipe for this cake was first recorded in 1934. And before that, it used to be passed on by word of mouth, and its fame grew gradually from house to house.
Now, the cake has become a famous and favorite treat in many countries.
Ingredients for Chocolate Sponge Cake
Flour: 130 gr.
Corn starch: 50 gr.
Cocoa powder: 80 gr.
Sugar: 160 gr.
Eggs: 6
Butter: 100 gr.
Ingredients for Butter Cream
Cream 33-35%: 500 ml. + 200 gr. cream or mascarpone cream for flowers.
Sugar: 100 gr.
Ingredients for Soaking and Decoration
Cherries in syrup: about 180 gr.
Maraschino liqueur, or kirsch: 100-120 ml.
Chocolate: 150-170 gr.
Recipe for Black Forest Cake (Schwarzwälder Kirschtorte)
Separate egg whites from the yolks. Whisk the whites with a pinch of salt until stable peaks.
Add a little sugar, yolks – one by one, then – butter, and continue whisking until fluffy cream.
Sift the flour twice with starch and cocoa.
Add this mixture gradually to the whipped cream.
Prepare the batter, pour it into a mold, diameter 26 cm.
Bake in a pre-heated oven for about 35-40 minutes, at 180 C. Leave to cool in the oven.
When the sponge cake cools down, cut it into two parts.
Put the cherries in a colander to drain the syrup, mix it with liqueur.
Apply the mixture on both halves of the sponge cake.
Then, put one cake tier into a round mold and spread the whipped cream on it.
Put the cherries on top. Sprinkle with chocolate crumble.
Cover it with another cake tier. Spread some whipped cream over it.
Squeeze out the flowers through a pastry bag.
Decorate each flower with a cherry.
Sprinkle with chocolate crumble.
Put into the refrigerator for 10-12 hours.
Remove the mold and sprinkle the sides of the cake with chocolate crumble.
Enjoy!
https://geniuscook.com/wp-content/uploads/2016/07/torta-foresta-nera1.jpg
553
700
Elena and Alfredo
https://geniuscook.com/wp-content/uploads/2014/02/gc-logo2.png
Elena and Alfredo
2016-07-28 10:23:00
2016-11-17 14:27:33
Black Forest Cake (Schwarzwälder Kirschtorte)