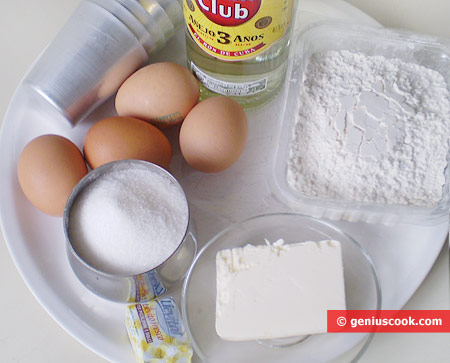 Baba's creator is believed to be Polish king Stanisław Leszczyński. He found the then popular kugelhopf cake to be too dry and he dipped it in wine. He liked the resulting goodie so much that he named the dessert after his favorite fiction character, Ali Baba.
Rum Baba resurfaced in the 18th century owing to French gastronome Brillat-Savarin who thought up a rum syrup that he used to soak the baba. The French took to the dessert immediately and it became a popular treat.
At the end of the 18th century two sisters, Marie-Antoinette and Marie-Carolina brought rum baba from Paris to the Neapolitan Kingdom. Since those times the Neapolitans look on this dessert as their traditional treat.
Ingredients for dough
0.5 lb flour
4 eggs
0.04 lb yeast
0.13 lb butter + 0.06 for smearing over the bottom of the form
0.07 lb sugar
a pinch of salt
4 tablespoons warm water
Ingredients for rum syrup
0.3 lb sugar
0.3 pt or ¾ glass water
0.3 pt or ¾ glass rum
a strip of lemon peel
The Recipe for Rum Baba
Activate yeast by mixing it with warm water, 1 tablespoon sugar and 3 tablespoons flour of the total amount. Leave to come by for half an hour.
Whip up eggs into foamy froth.
Sift the flour, add sugar, salt and soft butter. Mix it with whipped eggs and add activated yeast. Knead soft dough and leave to ferment for 2 hours.
Smear the forms with cold butter. Fill them 1/3 up with dough and leave to rise.
When the forms have filled with dough – in about an hour – place them in the oven pre-heated to 356 degrees. Bake for 20 minutes.
For making the syrup mix water with sugar, add lemon peel and boil for 5 minutes. After the syrup has cooled down, take out the peel and add rum.
Let the bakery soak well in the syrup.
https://geniuscook.com/wp-content/uploads/2012/05/ingredient.jpg
363
450
Elena and Alfredo
https://geniuscook.com/wp-content/uploads/2014/02/gc-logo2.png
Elena and Alfredo
2012-05-08 15:26:16
2012-05-08 15:26:16
The Recipe for Rum Baba