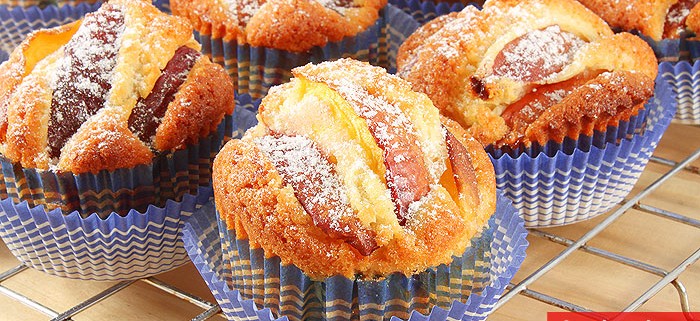 Now the season for peaches and nectarines. Try to bake muffins with sweet juicy nectarines. The muffins with nectarines have a delicious flavor and very tender texture.
It is a perfect dessert that will diversify your home cuisine.
Ingredients for Nectarine Muffins
Flour: 180 gr.
Sugar: 150 g.
Butter: 120 gr.
Eggs: 2
A pinch of salt.
Baking powder: 10 g.
Milk: 2 tbsp
Vanilla essence: a couple of drops.
Nectarines: 3
Powdered sugar for dusting the ready muffins.
Recipe for Nectarine Muffins
Whisk eggs with butter.
Mix flour with sugar, salt and baking powder.
Combine the dry and wet ingredients,  and mix them well.
Distribute the dough into the molds.
Put thin slices of nectarines on top – 3 slices for a muffin.
Bake in the preheated oven, at 180C, 30-35 min.