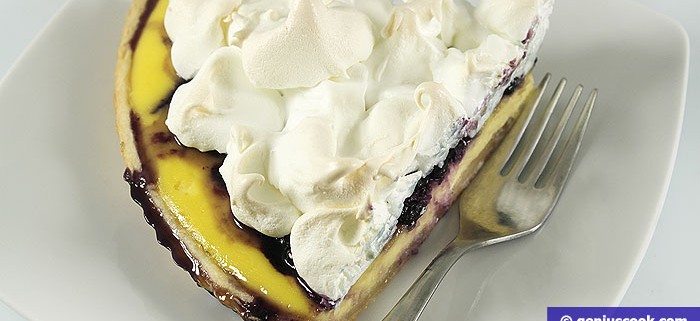 Do you like French tart or Italian crostata? It is impossible not to love it. After all, these flat pies have a delicate flavor and are made from the simplest products that are always at hand.
By the way, in this tart can be replaced berries in the filling. If you don't have blueberries, you can take any other berries.
Ingredients for Tart with Ricotta, Blueberries and Merengue
for the dough
Flour: 300 gr.
Cold butter: 100 gr.
Couple tablespoons of cold water.
A pinch of salt.
for the filling
Ricotta: 500 gr.
Eggs: 3 pcs.
Blueberries: 80 gr.
Sugar: 180 gr.
Vanilla essence: a couple of drops.
A pinch of salt.
Recipe for Tart with Ricotta, Blueberries and Merengue
Chop the flour with cold butter. Add two tablespoons of cold water.
Flatten the dough on the bottom and sides of the mold, diameter 25 cm. Put in the fridge for half an hour.
Separate egg yolks from egg whites.
Whip the egg yolks with sugar until light cream, combine with ricotta cheese, vanilla, pinch of salt, and mix.
Spread evenly in the mold.
Bake in the oven for 30-40 minutes, at 180C.
Whip the egg whites with the remaining sugar until you get stiff peaks.
Take out the mold with the pie, top with berries.
Place the whipped egg whites over the berries using a pastry bag, or spoon.
Bake the pie in the oven for 10 minutes, at 160C.
Turn off the heat and leave the tart to cool in the oven.