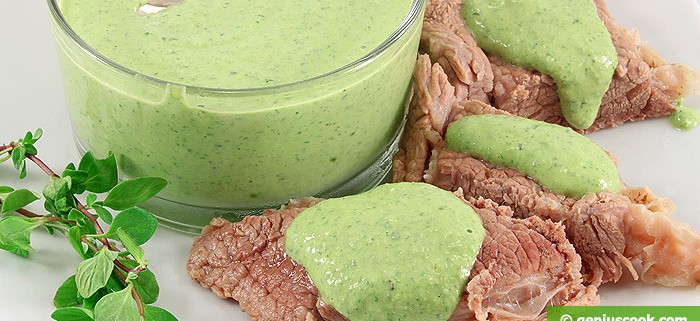 Frankfurt Green Sauce Recipe
The fragrant green sauce is a famous component of Frankfurt cuisine. It has been known for more than a hundred years, and its popularity does not fall, only increases.
In many families, it is considered a tradition to serve the sauce with baked or boiled potatoes, eggs, beef. Alternatively, you can simply spread it on fresh bread or a toast.
In fact, the sauce goes well with many products, enriching any dish with its elegant taste and aroma, so it has a reputation for versatility.
However, we have prepared a sauce resembling the Frankfurt one. After all, the original sauce is prepared with certain herbs: chive, borage, sorrel, cress, chervil, parsley and small burnet.
They are difficult to find here, while in Germany they sell the mixture for Grüne Soße as a ready set of herbs wrapped in white bags.
Ingredients for Frankfurt Green Sauce
Beam of various herbs – we had a spinach, leaf celery, green onions, oregano, basil, parsley, dill. All herbs take to your liking, and, depending on seasonal availability. It is difficult to specify the exact proportions, they usually do not weigh in, and taken to the eye. However, approximately 20-30 g. each species.
Sour cream (we had a Greek yogurt): 250-300 gr.
3 hard-boiled eggs
2-3 tbsp. of lemon juice or white wine vinegar.
5-6 tablespoons olive oil or sunflower oil
1 tbsp. of mustard.
1 clove of garlic
1 small pickled cucumber.
Salt, sugar and pepper to taste.
Recipe for Frankfurt Green Sauce
Wash the herbs, dry them and chop in a blender with cucumber, garlic and egg whites.
Knead the yolks and butter. Add mustard and lemon juice.
Mix all the ingredients in a deep cup until smooth.
Add some pepper, salt and sugar, bringing the taste to perfection.
Leave in the refrigerator for 2-3 hours.
Serve the sauce in small sauce bowls separately for each person.
https://geniuscook.com/wp-content/uploads/2014/10/salsa-verde.jpg
467
700
Elena and Alfredo
https://geniuscook.com/wp-content/uploads/2014/02/gc-logo2.png
Elena and Alfredo
2014-10-19 06:31:00
2014-10-19 06:31:00
Frankfurt Green Sauce Recipe