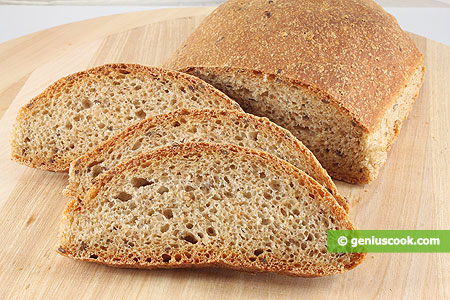 Whole Wheat Bread with Flax Seeds and Sesame
Whole wheat bread with different seeds is good for health. It is rich in fiber, vitamins and minerals not found in refined white flour. Besides, it is very tasty and smells delicious. Therefore it is worth learning how to bake it.
Ingredients for Whole Wheat Bread
Warm water: 300 ml.
Wholegrain flour: 400 g.
White flour: 100 g.
Honey: 1 tsp
Dry yeast 1.5 tsp. or fresh 25 gr. (or 50 gr. dry sourdough).
Olive oil: 1 tbsp
Salt: 1.5 tsp
Seeds of flax and sesame seeds: 2-3 tbsp
Recipe for Whole Wheat Bread
Mix the yeast with honey, add 2 tablespoons water and flour. Leave for 30-40 minutes.
When the yeast activates, place it in a bowl and mix all the ingredients.
Set the dough hook. Knead at low speed until smooth 10 min. If necessary, add a little water or flour.
Form a loaf and place it in a bowl. Leave to ferment for 4-5 hours (can be longer) and cover with a towel. We noticed if the dough ferments longer, bread turns out better in texture.
Put the dough on the table and play with it for a few minutes, kneading well.
Shape the bread. We made 2 long loaves, they are easier to cut.
Place the bread on a parchment and leave on the table for an hour.
Preheat the oven to 392F (200 C) together with the baking sheet.
When the bread grows again, put it onto the hot baking sheet with the parchment.
Bake for 1 hour.
https://geniuscook.com/wp-content/uploads/2014/01/pane-pronto.jpg
300
450
Elena and Alfredo
https://geniuscook.com/wp-content/uploads/2014/02/gc-logo2.png
Elena and Alfredo
2014-01-08 14:59:50
2014-06-26 13:05:49
Whole Wheat Bread with Flax Seeds and Sesame