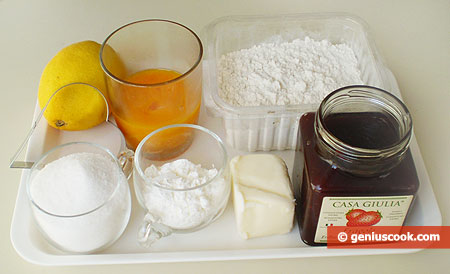 How to Make Heart-Shaped Cookies with Strawberry Marmalade
Here's the recipe for delicate and crumbly cookies. The dough is made from yolks with the addition of corn starch. Any jam or marmalade is good for stuffing, but it has to be thick.
Ingredients for Heart-Shaped Cookies
0.6 lb flour
1.8 oz corn starch
4 yolks
0.2 lb sugar
4.6 oz butter
a pinch of salt
1 lemon
0.2 lb strawberry marmalade
Cooking Instructions
Scrape the peel off the lemon. Mash yolks with sugar.
Take a bowl, mix flour with starch, lemon peel, salt, add yolks and butter.
Knead soft dough, make it not sticky. Roll into a ball, leave in the bowl for half an hour, covering it with a cling film.
Roll out the dough into a thin sheet, cut out hearts with a mold. Put half-teaspoonful of marmalade in the centre of a heart and top it with another heart. Press the edges together with a fork.
Bake the cookies in an oven pre-heated to 392 degrees for about 20 minutes.