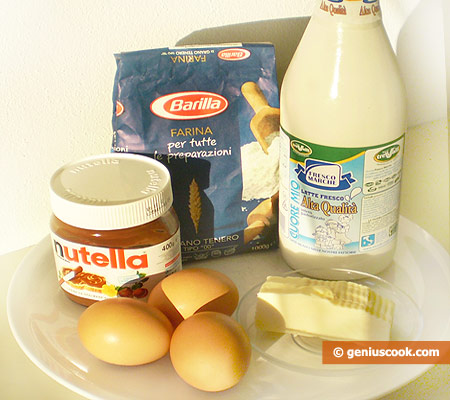 The Recipe for Pancakes with Nutella
Pancakes is one of favorite dough dishes in many parts of the world. Italians love eating pancakes with Nutella, the chocolate-and-nut butter,  called – Crepes alla Nutella. The butter is globally known owing to its high quality, for it is made from hazelnut, cocoa, and dry milk. Nutella goes perfectly well with pancakes which are often baked in small stalls out on the streets and smeared with warm Nutella at once.
Ingredients for Pancakes with Nutella
2 pt or 5 glasses milk
1 lb flour
0.16 lb butter
3 eggs
sugar, salt: to taste
Nutella: to taste
Recipe for Pancakes with Nutella
Mix flour with melted butter and milk.
Whip up eggs with sugar and salt and mix them into the dough.
Bake pancakes on a hot frying pan with a thick bottom, pouring the dough in with a ladle and tilting the pan quickly to make the dough flow over the bottom in a thin smooth layer.
Warm up the Nutella can a little by placing it in a pan with hot water – the butter will smear more easily.
Spread Nutella over the pancakes and fold them in two; then fold the edges in to make them look like a fan.