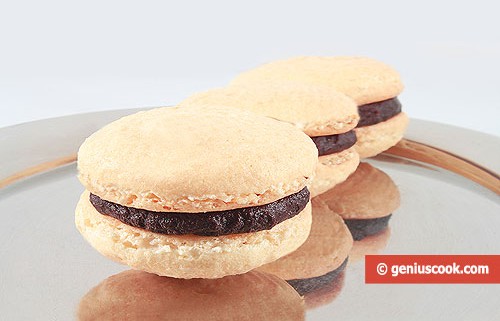 The Recipe for French Macarons
This pastry gains worldwide popularity fast due to its marvelous conjunction of two almond meringue pieces and filling. Macaron is a kind of pastry with a thin crust that breaks easily when you bite it. It is wonderfully soft inside, a little bit moist and moderately sweet.
When you set about baking macaron you need to weight all the ingredients carefully!
The process of baking is quite sensitive on some stages; each of them can cause problems. The sensitive factors are the quality of the ingredients, the kneading of the dough, the length of the layoff period (the humidity level in your kitchen) and the particular characteristics of your oven. Any of these factors may tamper with the process, and something will go wrong. For example, the skirt or the foot can come out more horizontally than it is advisable; the tops can come out crooked, cracked, overswollen in some places, too dry inside or too resinous and flattened.
Unfortunately, if you want to get perfect macarons, you will have to make them several times, for it can turn out that in your kitchen with your ingredients and your particular kind of oven the recipe should be altered round to suit these characteristics.
You should start preparing for macarons 3 to 6 days in advance. Separate whites from yolks and place the whites in the fridge in a glass bowl covered with a paper napkin.
Buy some almond flour. If you want to make it yourself from peeled almond, you should grind it very fine. Grind it by small portions in the coffee grinder.
Ingredients for French Macarons
Almond flour: 100 g.
Icing sugar: 180 gr.
Egg whites 100 g. (ages 3 to 6 days at room temperature).
Fine white sugar 35 gr.
Recipe for French Macarons
Sift almond flour with sugar powder.
Whip up the whites into hard foam, then add sugar and keep whipping until you get stiff spikes. If you chose to use coloring agents, add them now. When you whisk the stuff up, the meringue should stay upright without wilting down like a beak. As soon as you get it like this, stop whipping at once.
Sifting the almond mixture with powder over the whipped whites, knead dough with a turner moving from downside up as if folding dough.
Fill a piping bag with the dough.
Set the dough on a baking tray covered with a sheet of parchment.
Strike the tray against the table several times to get air bubbles out.
Leave the macarons to stand by for 30-60 minutes to get their surface dry. As soon as they are no longer sticky, set them in an oven pre-heated to 320 degrees for 14 minutes.
Take them out and let them cool down, then pick them off the parchment.
Smear the bottom of the cookies with cream and top with another cookie.
The most popular filling for makarons – Chocolate Cream Ganache, caramelized milk Dulce de leche or Lemon Curd.
https://geniuscook.com/wp-content/uploads/2013/01/macarun.jpg
329
500
Elena and Alfredo
https://geniuscook.com/wp-content/uploads/2014/02/gc-logo2.png
Elena and Alfredo
2013-01-10 14:22:55
2014-10-15 04:58:18
The Recipe for French Macarons