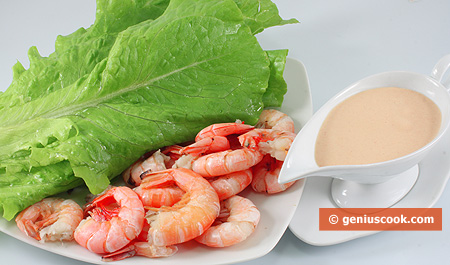 Here's a recipe for salad that is a cocktail at the same time with boiled prawn and the rose sauce that is exquisite and delicious and can bring distinction to any menu even a festive one. The main thing is to prepare the sauce beforehand.
Ingredients for Shrimp Cocktail Salad
Shrimps: 500-600 gr.
A glass of pink sauce.
A few leaves of cos lettuce  or any other.
Bay leaf, black pepper, salt: to taste.
Recipe for Shrimp Cocktail Salad
Boil shrimps with bay leaf, black pepper, salt, for a couple of minutes, clean from shell, leaving only tail tips.
The salad can be laid out in various ways – for one, cut up the shrimps, tear up lettuce leaves and pour the sauce over them.
Or you can do like we did – put a lettuce leaf in a glass, pour in enough sauce and arrange whole shrimps around the edges.