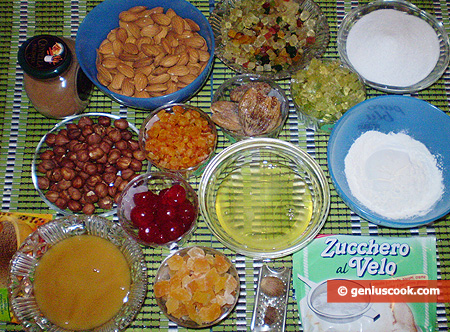 How to Make Panforte Margarita
Get a piece of Italy on your table with panforte – a Christmas fruitcake stuffed with dry fruit and nuts, a heavenly mixture of honey, spices, candied peel, and almond. It originates from the time immemorial. It is a very old dessert; its first known mention goes back to the beginning of the 13th century. It hails from Siena from where it has conquered the whole of Italy and then the rest of the world due to its delicious taste; besides, it is easy to make and keeps well. It's a sort of energizing tablet that can be taken along on a trip.
This recipe comes from the Book of Siena's Traditional Recipes published by Siena's community and comprising recipes from local grannies.
Ingredients for Panforte Margarita
For 2 panforte
150 gr. honey
150 gr. sugar
150 gr. hazelnuts
250 gr. almond
150 gr. candied fruit
50 gr. candied cherries
100 gr. candied orange
100 gr. candied melon
100 gr. candied citron peel
100 gr. dried figs
3 egg whites
1 tsp cinnamon
0.5 tsp nutmeg
25 gr. butter
pinch of black pepper
60 gr. flour
50 gr. caster sugar
Recipe for Panforte Margarita
Mix sugar with honey and bring to boil; boil on for 5 minutes.
Chop nuts, cut up all the ingredients finely.
Mix them all in a bowl, add spices, egg whites, flour and warm syrup. Give it a good mix-up.
Take a form, cover it with an oiled sheet of parchment, sprinkle with flour and lay out the mixture in a half-an-inch layer.
Smooth it well and press it down with something like the bottom of a glass so there are no cavities and the surface is even.
Put in the oven and bake at 300 degrees for about 40 minutes.
Take it out and let it cool in the form.
When panforte has cooled down, sprinkle it with sugar powder.
https://geniuscook.com/wp-content/uploads/2013/01/ingrediente-per-panforte.jpg
332
450
Elena and Alfredo
https://geniuscook.com/wp-content/uploads/2014/02/gc-logo2.png
Elena and Alfredo
2013-01-11 07:46:58
2013-01-11 07:46:58
How to Make Panforte Margarita