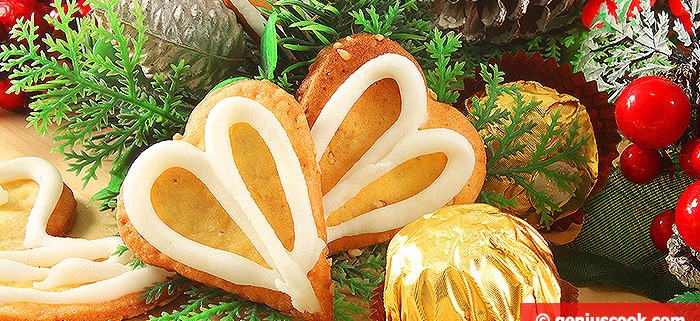 Try these delicious homemade crunchy cookies with royal icing for Christmas and New Year.
Here is an easy recipe for baking Christmas decorated cookies. You may draw just any pattern using this glaze. It's so simple – even your kids will manage it and enjoy for sure!
Ingredients for Christmas Crispy Cookies with Glaze
For the dough you will need:
Flour: 200 gr.
Sugar: 100 gr.
Sesame 2 tbsp
1 egg + 1 egg yolk
Butter: 100 gr.
A pinch of salt.
Vanilla essence: 2-3 drops.
For the glaze take the following ingredients:
1 egg white.
Lemon juice 1 tsp
Powdered sugar: 180 gr.
Whisk together. If dry, add 2-3 drops of water
Recipe for Christmas Crispy Cookies with Glaze
Mix the dry ingredients
Mix the wet ingredients
Put the dough in a refrigerator for 30 min.
Bake for 10-15 minutes. at 180C / 356F
Decorate with glaze.