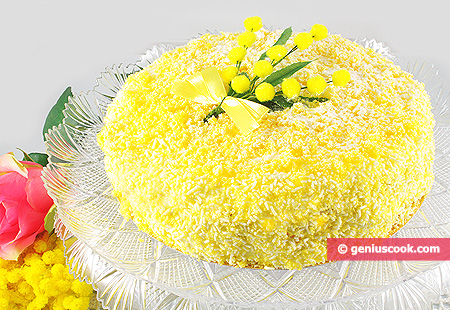 The Recipe for Mimosa Cake
In Italy it is a cake that is made against March 8, for this holiday is associated with mimosa which blossoms at the beginning of March.
The cake delights the eye with its sunny yellow color and evokes spring sensations.
The secret of great tenderness this sponge cake in a long whipping eggs with sugar.
For Mimosa Cake need cook two sponge cake. One of them will be the base, and stuffed with custard, enriched with whipped cream. Another sponge cake crumble and be used to cover a cake, that looked like a flower mimosa.
Ingredients for Mimosa Cake
For sponge cake
Flour: 190 gr.
Corn Starch: 50 gr.
4 Eggs and 6 yolks.
Sugar: 180 gr.
For the custard
Milk: 500 ml.
Flour: 50 g.
6 Egg yolks
Vanilla essence.
Sugar: 150 gr.
For the whipped cream
200 ml fresh cream 35%
30 gr. powdered sugar.
For soaking sponge cake
Orange-flavoured liqueur Cointreau: 100 ml.
Water: 50 ml.
Sugar: 50 gr.
Recipe for Mimosa Cake
Mix eggs and sugar, whip for about 10 minutes. Add yolks and whip for another 5 minutes, then add flour and knead dough.
Take 2 forms, smear them with oil and drizzle some flour over the bottoms. Place the dough inside and bake at 355 degrees for about 30 minutes.
Make the custard for this Recipe Custard and put it in a cold place.
Whip up cream with powdered sugar and put them away into the fridge too.
When the custard and cream have cooled down, mix them together.
Make the steeping agent by mixing liqueur and sugar, bring them to boil and cool down.
Cut and remove dark crust off one sponge cake and crumble it up.
Cut the other sponge cake horizontally in two.
Put the first cake on a plate, soak it in the soaking agent, smear with the cream thickly. Treat the other cake in the same way.
When the cake is built up cover it with more cream and drizzle it over with crust crumbles thickly.
Put the cake in the fridge for about 3-4 hours.