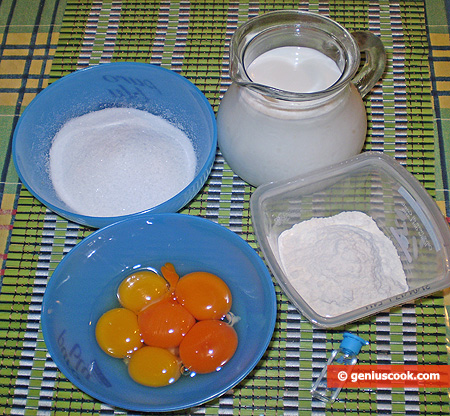 This cream can be used for making éclairs, profiteroles, cakes from puff pastry, smearing cake layers. It is good for different fruit and berry desserts. Besides, you can just eat it with cookies. Different from English cream because here are used to thicken the flour or starch.
Ingredients for Custard
Milk: 500 ml.
Sugar: 150 g.
6 Egg yolks.
Flour or corn starch: 50 g.
Vanilla pod or essence.
Recipe for Custard
Warm up milk in a pan.
Whip up yolks with sugar until they become cream-like. Add vanilla, flour and some milk.
Add hot milk to the yolk mixture gradually, do it in several stages, stirring constantly.
Put the mixture on medium heat and keep stirring until it becomes thick.
Boil the cream for a couple of minutes, stirring all the time.
Let it cool down, and it is ready.
If you haven't used it up at once, put it into a container, cover up with a flim and keep in the refrigerator.