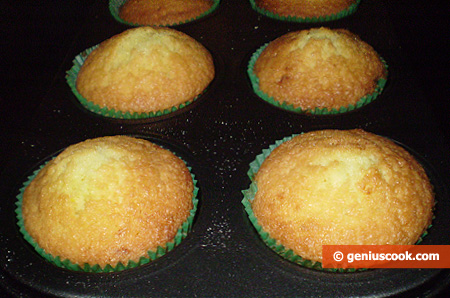 The Recipe for Vanilla Cupcakes with Pink Cream
Cupcakes are small cakes for 2-3 bites, baked in metal forms with paper cups inside. Like all cakes, cupcakes are decorated with icing, cream, fruits or chocolate.
Cupcakes were first found in an American cookery book published in 1796. Nowadays they enjoy great popularity and come in various versions, so you can let your imagination run away with you.
Ingredients for Vanilla Cupcakes
110g/4oz butter, room temperature
110g/4oz sugar
2 eggs
1 tsp vanilla extract
110g/4oz flour
1-2 tbsp. milk
1 tsp baking powder
pinch of salt
cream
55g/2oz butter, room temperature
110g/4oz cream cheese
2 tbsp. Alkermes liquor
110g/4oz caster sugar
1 drop of rose oil
any fruit for decorate
Recipe for Vanilla Cupcakes with Pink Cream
Heat the oven to 390 degrees.
Beat up butter and sugar in a bowl at medium speed until you get cream.
Add eggs, one at a time, beating up the mixture after each egg; add vanilla and milk.
Mix in flour with baking powder, working at a low speed.
Put the dough into forms. Bake for 20 minutes or until an inserted toothpick comes out clean.
Let the cupcakes cool down and decorate with cream. To make the cream beat up butter with cream cheese, liqueur, sugar, rose oil, and bits of any fruit.