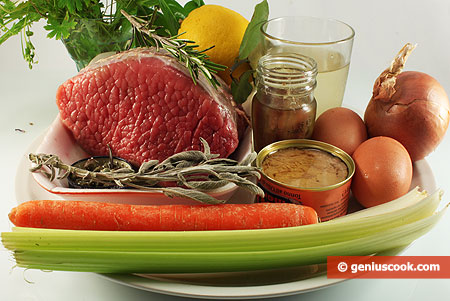 The Recipe for Vitello Tonnato or Veal in Tuna Sauce
If you want to try excellent veal in tuna sauce cooked in perfect accordance with tradition, you've come to the right place. Vitello tonnato, an exquisite cold appetizer, is Piemont's customary dish. They hold a special yearly festival devote to this dish with its fine combination of fish and meat. The classic recipe requires some time to be done properly.
Ingredients for Veal
1.6 lb fillets of veal
1.2 cup dry white wine
1 stalk sage and 1 of rosemary
1 carrot
2 stalks celery
3-4 bay leaves
1 onion
salt
Ingredients for Tuna Sauce
0.3 lb tuna in oil
5-6 fillets of salted anchovy
3 eggs
1 tablespoonful salted capers
juice of one lemon
3 tablespoonfuls olive oil
Cooking Instructions
Marinate the veal in white wine, with sage leaves, rosemary and bay leaves for 12 hours.
Then boil the meat over low heat in the marinade with the addition of onion, celery, carrot and water enough to cover the meat.
In 1.5-2 hours turn off the heat and leave the meat in the broth to cool down. Then take it out, let it dry and cut into thin slices across the fibers.
To make the sauce beat up in the blender boiled eggs, tuna, anchovy fillets, capers, lemon juice and olive oil. Make the sauce not too thick, diluting it with the broth adding it by spoons until you get the body of required wateriness.
Pour the sauce over the veal slices, decorate with capers. Place the dish in the refrigerator for several hours to let the meat soak better.
Serve the veal at room temperature.