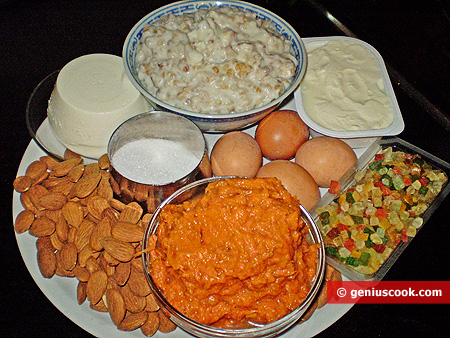 The Recipe for Cake "Pumpkin Pastiera"
We made up this recipe Cake as a variation of Pastiera Napoletana. It retained enough of the original recipe to allow us to call it pastiera – boiled wheat, sweetmeats, ricotta and orange oil. It is based on almond paste and not short pastry, and we added cream cheese and pumpkin puree into the filling.
We were satisfied with the result – it tasted delicious, the filling came out tender and flavorful.
If you met with a difficulty finding an ingredient, you can always replace it with some similar item. Of course it will alter the taste, but it won't necessarily be for the worse, it will just be a little different.
Ingredients for the base
250 gr. ground almonds
100 gr. of flour
2 eggs
2 tbsp milk
3 tbsp sugar
Ingredients for the filling
500 gr. pumpkin puree, made from baked pumpkin until soft.
500 gr. of wheat, soaked in water before the cooking and cooked in milk until creamy porridge with 1 tablespoon sugar, a pinch of salt and 5-6 drops of oil of orange blossoms.
200 gr. ricotta
200 gr. cream cheese
150 gr. ground almonds
100 gr. candied fruit
2 eggs
5-6 tbsp sugar
pinch of salt
Recipe for Cake "Pumpkin Pastiera"
Mix ground almond with flour, sugar, eggs and milk.
Smear butter over a cake hoop and spread almond paste over the bottom with wet hands.
Make the filling by mixing pumpkin puree, boiled wheat, ricotta, cream cheese, ground almonds, sweetmeat pieces, eggs, sugar and a few drops of orange flower oil.
Spread the filling evenly on the almond base.
Bake in a pre-heated oven at 356 degrees for one hour, then bring the heat down to 280 degrees and bake for another 30 minutes. Pastiera ought to cool down slowly, so leave it in the oven after you have turned off the heat.
Decorate with cream cheese mixed with icing sugar to taste and candied fruit.
https://geniuscook.com/wp-content/uploads/2012/11/ingrediente-per-pastiera.jpg
338
450
Elena and Alfredo
https://geniuscook.com/wp-content/uploads/2014/02/gc-logo2.png
Elena and Alfredo
2012-11-23 08:02:14
2012-11-23 08:03:30
The Recipe for Cake "Pumpkin Pastiera"