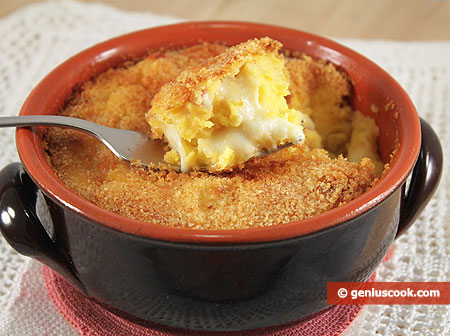 Mozzarella Cheese Potato Casserole
This potato casserole is easy to cook, has a pleasant taste and juicy texture thanks to mozzarella cheese. It is delicious both hot and cold.
All ingredients are approximate. You may increase or decrease the amount depending on your appetite and the number of eaters. Add everything to your taste.
Ingredients for Mozzarella Potato Casserole
Potatoes: 4-5
Eggs: 1-2
Mozzarella: 250 gr.
Butter: 50 gr.
Dried oregano, salt and pepper.
Breadcrumbs: qs.
Recipe for Mozzarella Potato Casserole
Boil unpeeled potatoes until tender.
Peel it, mash, add the eggs, butter, oregano, pepper and salt.
Butter the pots and sprinkle them with breadcrumbs.
Spread the mashed potatoes and mozzarella slices in layers.
Sprinkle on top with breadcrumbs.
Bake for about 30-40 minutes, 160-170C (320-338F).