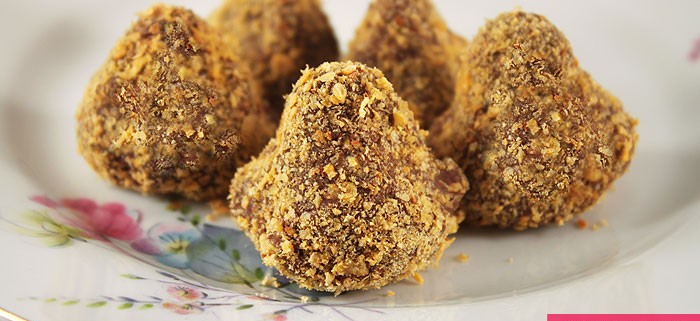 The taste of oranges and chocolate complement each other so well that we can be sure: these truffles will give you a real pleasure.
Try to cook these delicious candies truffles at home and the festive mood will be provided.
Ingredients for Orange and Chocolate Truffles
Dark chocolate: 200 gr.
33-35% cream: 100 gr.
Orange liqueur Cointreau: 2 tbsp
Candied orange: 30 gr.
Orange marmalade: 50 gr.
Ground almonds: 2 tbsp
For the coating: corn flakes, mixed with ground candied orange.
Recipe for Orange and Chocolate Truffles
Melt chocolate with cream in a water bath.
Add candied fruit, almonds, liqueur Cointreau and jam.
Mix everything and put the mixture in the refrigerator, for 4-5 hours.
Then roll balls of the shape you like and make sure they look like truffles.
Roll them in a mixture of splintered cornflakes and ground candied orange.

Put

the truffles

in the refrigerator for

1-2 hours

and

enjoy.

Keep the 

truffles

in the fridge.