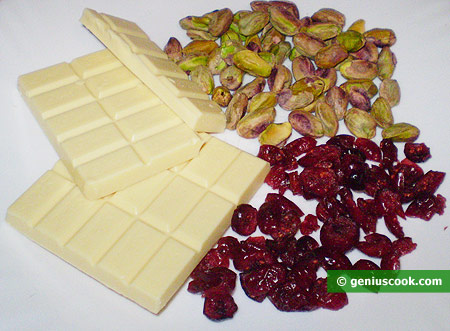 You can make a beautiful and incredibly delicious treat from common white chocolate. We liked the combination of sour cranberry, pistachios and white milk chocolate. But, while we're at it, you can use any kind of nuts and sun-dried berries. This treat invites the input of fantasy, and you can make it according to your taste.
Ingredients for Chocolate with Cranberries and Pistachios
0.3 lb white chocolate
1-2 tablespoon milk
2-3 tablespoons dried cranberry
a handful of pistachios
Recipe for Chocolate with Cranberries and Pistachios
Melt the chocolate by double boiling adding a tablespoon of milk.
Take any form of a suitable size and cover the bottom with food film.
Put nuts and berries on the bottom pell-mell.
Pour warm chocolate over them and place in the fridge for 1 hour.