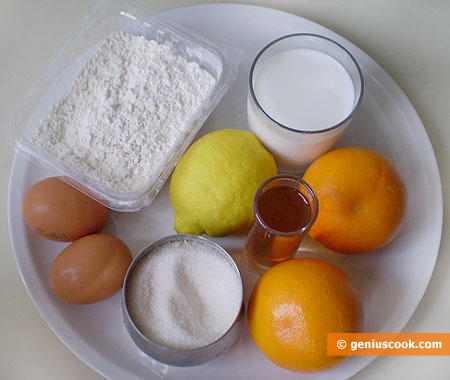 The distinctive feature of French Crêpes Suzette is that pancakes are poured over with liqueur Grand Marnier that is then set on fire. This way we get a sauce with the taste of caramel. Such pancakes are often prepared in the presence of visitors, for it makes a spellbinding sight.
Legend has it that crêpe Suzette was first cooked due to a mistake on the part of a young baker Henri Charpentier in 1895. He was preparing a dessert for the Prince of Wales, the future King Edward VII, and his companion by name of Suzette.
By chance the syrup caught fire, and Henri panicked, deciding that the dish is ruined. But when he tasted it he realized that it was delicious. The fire served to meld all the components into one harmonious flavor.
Ingredients for Crêpe Suzette
0.3 lb flour
0.6 pt milk
2 eggs
a pinch of salt and soda
2 tablespoons sugar
3 tablespoons olive oil
0.2 pt Grand Marnier liqueur or cognac
Ingredients for sauce
2 oranges
1 lemon
4 tablespoons sugar
0.12 lb butter
The Recipe for Crêpe Suzette
First prepare the sauce. Peel oranges and slice them. Squeeze juice from oranges and one lemon.
Put sugar, butter and orange peels into a pan, let them boil for 2 minutes. Then pour in the juice and boil for another 5 minutes. You can prepare the sauce well in advance, it only gets better with storage.
Whip eggs, salt and soda with a wire whisk, add milk and butter, and then add flour slowly. Mix well and put in the refrigerator for an hour.
Heat a frying pan. Pour in some dough and tilt the frying pan so that the dough spreads all over the bottom. Bake pancakes on both sides until they have gotten pleasantly brown.
Put the pancakes in the sauce and fold them into triangles.
Put all the pancakes into the frying pan, pour them over with the sauce and pour in liqueur. Ignite.
Serve hot
https://geniuscook.com/wp-content/uploads/2011/01/for-crepes.jpg
380
450
Elena and Alfredo
https://geniuscook.com/wp-content/uploads/2014/02/gc-logo2.png
Elena and Alfredo
2011-01-11 17:55:05
2011-01-11 17:55:05
The Crêpe Suzette Recipe