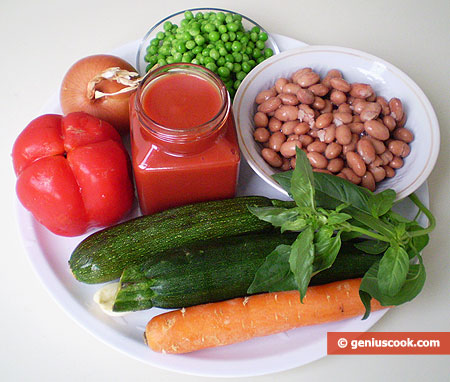 The Dietary Vegetable Cream Soup Recipe
Vegetable soups are a must for the diet of everyone who wishes to slim down and keep it that way. A vegetable soup can be a very tasty dish! Here is a recipe for a dietary soup that will give you plenty of nourishment and minimum calories.
Ingredients for Dietary Vegetable Cream Soup
1 cup boiled red kidney beans
0,5  cup green peas
2 zucchinis
1 sweet pepper
1 onion
1 carrot
1 garlic clove
1 cup grated tomatoes
a few basil leaves
2 tablespoons olive oil
2 tablespoons yoghurt
salt
Cooking Instructions
Pour water into a pan. Put in kidney beans and peas.
Add other vegetables, roughly cut.
Boil for 20 minutes. At the end put in grated tomatoes, salt, olive oil and turn off the heat in 2 minutes.
Strain the soup through the colander. Put all the vegetables into the blender and make a puree. Mix it into the broth and boil.
Serve hot, adding a tablespoonful of yoghurt, drizzling with finely grated garlic and basil.