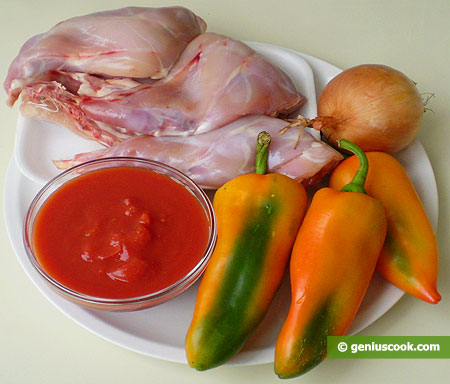 Rabbit in Tomato Sauce with Sweet Pepper and Curry
Cooking rabbit meat in different sauces is always a promise of a delicious meal. Meat comes out a little sweet and very juicy when cooked in tomato sauce with sweet pepper. You can take either fresh tomatoes or canned ones. If you like your dishes more pungent add some hot red pepper into the sauce.
Ingredients for Rabbit Meat in Tomato Sauce
4 rabbit legs
1.1 lb sweet peppers
0.7 lb grated tomatoes
1-2 onions
3-4 tablespoons Extra Virgin olive oil
0.5 teaspoon curry
salt to taste
some flour
Cooking Instructions
Roll rabbit legs in flour and fry for 3-4 minutes on both sides to get golden crust.
Pour olive oil into a saucepan or a pan with a thick bottom and fry onions cut into cubes. Remove seeds from sweet peppers, dice them, put into the pan and fry all together for about 5-7 minutes. Add grated tomatoes, curry, salt and simmer for about 5 minutes.
Put the fried rabbit legs into the sauce, cover and simmer for about 15-20 minutes over low heat.
Garnish the rabbit meat with fresh herbs and serve it in hot sauce.