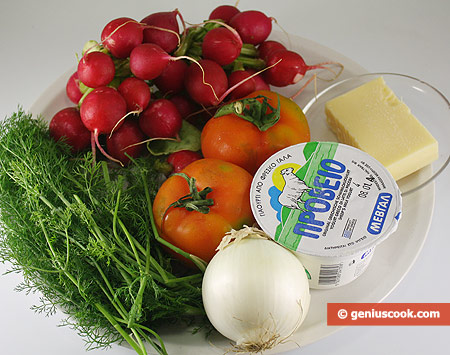 The Salad with Radish, Tomatoes and Greek Yoghurt Recipe
This salad is juicy, exuding wonderful aroma of fresh dill, and you will surely get to like it to such an extent that it may become your favorite of salads. If you are unable to find thick Greek yoghurt made from goat milk, take thick sour cream instead.
Ingredients for Salad with Radish
2 bunches radish
2 tomatoes
a bunch of dill
0.4 lb Greek yoghurt
0.2 lb emmentaler
1 onion
Recipe for Salad with Radish
Cut radish across in thin slices.
Cut tomatoes handsomely, cut onion in small cubes.
Chop dill finely.
Grate cheese finely.
The salad being very juicy, the best bet is to mix the ingredients, dress and decorate it right before you serve it.