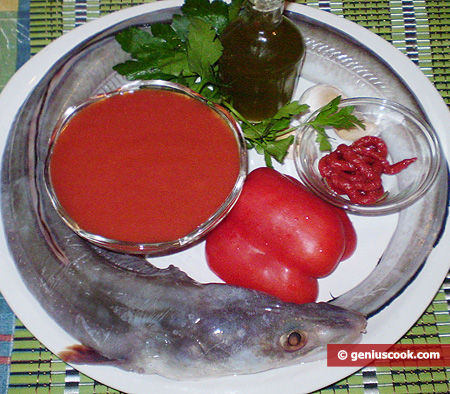 The Recipe for Conger in Tomato Sauce
Conger is a snake-like fish also known as congrid eel or shrimp fish. There are several types of conger. They live near rocky shores in holes up to 30 meters deep in the sea. They are active at night, feeding on shellfish, fish and squid. Conger is appreciated for its marvelous white meat.
Today we cooked conger in a tomato sauce and hadn't expected it to come out so well. Juicy soft fish went perfectly with a thick rich sweetish sauce.
Before you set about cooking it take a little hint: this fish has many small bones in its tail, so be careful or even cut the tail off and throw it away. The rest of the body has only a backbone.
Ingredients for Conger in Tomato Sauce
Conger 1, about 1.5 kg.
Tomato puree 1 cup.
Tomato slices 1 cup.
Dry white wine 1 cup.
Tomato paste 1 tablespoon
Garlic: 2-3 cloves.
Bunch of parsley.
Half of red sweet pepper.
Olive oil, salt, pepper chili.
Recipe for Conger in Tomato Sauce
Gut the fish, clean the mucus with salt and wash in running water.
Pour some oil into a roasting pan to cover the bottom. Fry finely chopped garlic, then add chopped sweet pepper and parsley.
In a couple of minutes add tomato slices, dry white wine, tomato paste, tomato puree,  and stew the sauce for about 5 minutes.
Put in the whole fish, cover up and stew for about 20 minutes on low heat.
Serve hot or cold.
https://geniuscook.com/wp-content/uploads/2012/12/ingred-gronco.jpg
394
450
Elena and Alfredo
https://geniuscook.com/wp-content/uploads/2014/02/gc-logo2.png
Elena and Alfredo
2012-12-09 07:09:04
2012-12-09 07:09:04
The Recipe for Conger in Tomato Sauce