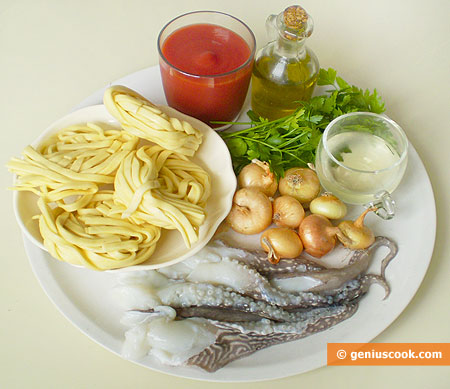 The Tagliatelle with Black Cuttlefish Sauce Recipe
Tagliatelle is a sort of long noodles which is very tasty with thick sauces. Black cuttlefish sauce has a satiating taste and flavor similar to that of black trifles. It gets its black color from cuttlefish ink that is used in Italian cuisine for its musky trifle-like taste. It is considered to be an aphrodisiac. With cuttlefish ink the Italians are preparing delicious sauces to different pasta, and black risotto.
Ingredients for Tagliatelle with Black Cuttlefish Sauce
0.7 lb tagliatelle
0.5 lb cuttlefish tentacles
7-8 small onion
0.42 pt tomato sauce
0.5 pt dry white wine
parsley, salt, white pepper to taste
5 tablespoons olive oil
cuttlefish ink
Recipe for Tagliatelle with Black Cuttlefish Sauce
Cut cuttlefish meat into large pieces.
Peel and cut onion, fry it for 3 minutes in olive oil, then add cuttlefish pieces and fry for 2 minutes more.
Pour in tomato sauce, add parsley,wine, salt and pepper, simmer for about 10 minutes.
Squeeze cuttlefish ink into the sauce. Turn off the heat in one minute.
Boil 4.22 pt water, boil tagliatelle, drain in a colander.
Serve tagliatelle hot poured over with black sauce.
https://geniuscook.com/wp-content/uploads/2010/06/for.jpg
389
450
Elena and Alfredo
https://geniuscook.com/wp-content/uploads/2014/02/gc-logo2.png
Elena and Alfredo
2010-06-08 03:53:28
2014-08-09 13:17:29
The Tagliatelle with Black Cuttlefish Sauce Recipe