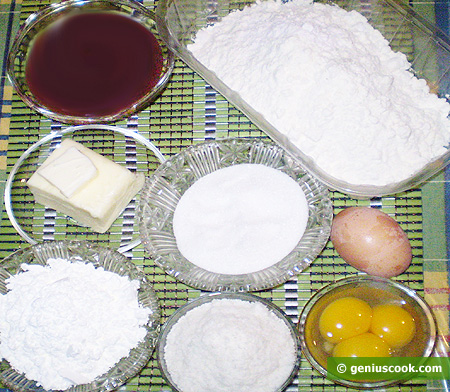 The Recipe for Argentine Cookies Alfajores
It is a kind of cookies which is very popular in Latin American countries and in Spain. They usually make round cookies, spread with dulce de leche, stick together by two and roll in grated coco crumbs. Better go the whole length and make your own dulce de leche, it is easy. You will be satisfied with the taste of your Alfajores.
Ingredients for Cookies Alfajores
350 gr. (2 cup) of flour.
130 gr. (1 cup) of corn starch
100 gr. (1/2 cup) of butter.
3 egg yolks and 1 egg.
100gr. (1/2 cup) caster sugar.
0.5 tsp soda.
1 tsp baking powder.
Lemon peel.
Brandy 2 tablespoons
1 cup dulce de leche
1/2 cup of grated coconut.
A pinch of salt.
Recipe for Cookies Alfajores
Whip up butter with sugar until you get fluffy cream, then add egg, yolks, cognac and lemon peel. Mix it up whipping up a little.
Sift flour with starch, soda, salt and baking powder.
Mix it together with butter cream and knead soft non-sticky dough.
Let it come to in a cold place for 2 hours.
Roll the dough into a sheet about 1/5 of an inch. Cut out round cookies 2 inches in diameter with a form.
Set on a baking tray covered with parchment. Bake in the oven pre-heated to 356 degrees.
When the cookies are ready let them cool down.
Put 1 teaspoonful of dulce de leche in the center, cover it with another cookie and press it down slightly letting the cream come out on the edges.
Smear the escaping cream even on the edges and roll the cookie around in coco shavings.