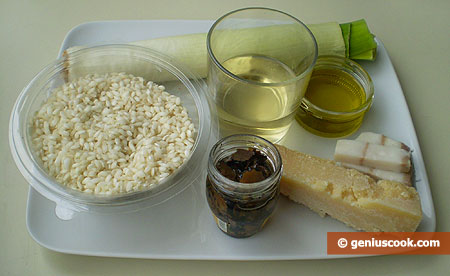 The Recipe for Risotto with Black Truffles
You can cook this risotto for a holiday dinner too. For example, as often as not this is a usual dish for Holy Christmas in Italian families. Risotto with black truffles is not so expensive as it may seem at first, for not all black truffles are very expensive. These mushrooms picked from May till August are regarded as summer mushrooms and their price is not too high. You can buy them in small jars cooked with olive oil. Black truffles are very healthy, being rich in potassium, iron, natrium, fiber and vitamins. Besides, they have so delicious a taste that they can enrich any dish, bringing in an extraordinary slightly nutty flavor which defies description. You have to taste it to know it.
Ingredients for Risotto with Black Truffles
0.6 lb Arborio rice
1 leek white root part
1 cup dry white wine
3 cups vegetable or chicken broth
3-4 tablespoons olive oil
2 tablespoons grated Parmesan
1 oz lard
1.6 oz black truffles in olive oil
salt, pepper to taste
Cooking Instructions
Dice leek into thin rings.
Chop lard finely, melt it and fry in a shallow wide pan with a thick bottom until nicely golden.
Then put in the diced leek, some olive oil and fry for 3-4 minutes over medium heat.
Add rice and fry it with leek slightly for about 3 minutes.
After that add wine gradually, stirring the rice constantly. When all the wine is absorbed, add broth in small portions. Reduce the heat to minimum.
When all the broth is absorbed and the rice is al'dente (it should be slightly hard inside) pour in the remaining olive oil, salt, pepper to taste. Then add grated Parmesan, continue stirring the rice until it is ready.
Put the hot risotto on plates, top the dish with thin slices of black truffles at once. Serve this dish hot.
https://geniuscook.com/wp-content/uploads/2009/11/Ingredients-for-Risotto-with-Black-Truffles.jpg
276
450
Elena and Alfredo
https://geniuscook.com/wp-content/uploads/2014/02/gc-logo2.png
Elena and Alfredo
2009-11-25 17:38:35
2009-11-25 17:38:35
The Recipe for Risotto with Black Truffles