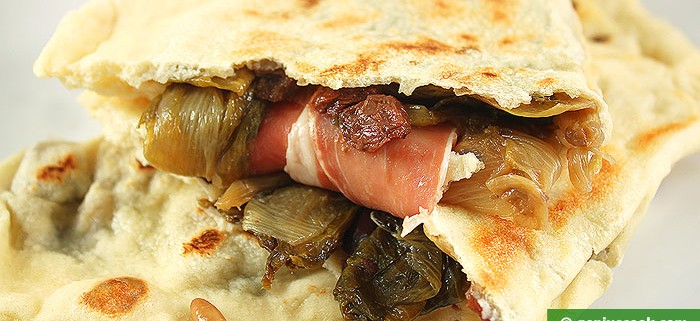 It a folded pizza. Like pita. We prepare it on a dry skillet grill.
The filling is based on the Neapolitan cuisine.
However, it is possible to cook and with other types of products, what you like or what is at hand.
For example, it would also be delicious with mozzarella, tomatoes, mushrooms or artichokes.
Ingredients for Sandwich-sized Calzone Pizza with Prosciutto and Frisee
for the dough
Flour 1 kg.
Water: 400 ml.
Salt: 1 tsp
Olive oil 2-3 tbsp
Fresh yeast: 25 g.
For filling
Head of frisee salad or curly kale, or curly endive (scarola)
In a handful of raisins, olives and capers.
Pine nuts: 1 tablespoon

Olive oil 3-4 tbsp

Clove of garlic.

Prosciutto ham thinly sliced 200 gr.
Recipe for Sandwich-sized Calzone Pizza with Prosciutto and Frisee
For the filling: divide the curly kale or frisee into stems, rinse.
Pour some oil into the saucepan, fry a garlic clove with pine nuts, olives, capers, raisins. Add the kale or frisee. Cover with a lid. Simmer over low heat until the kale gets soft, and excess moisture evaporates.
Dissolve yeast in warm water. Mix with flour, salt and olive oil. Knead elastic dough. Roll into a ball and leave in a warm place for 2-3 hours.
Divide the dough into 8-10 pieces, roll out thinly.
Put the filling and a slice of prosciutto on a half circle of dough and cover with the other part, pinching the edge. Form a folded pizza.
Bake on a dry skillet grill on both sides until golden. About 2-3 minutes on each side.