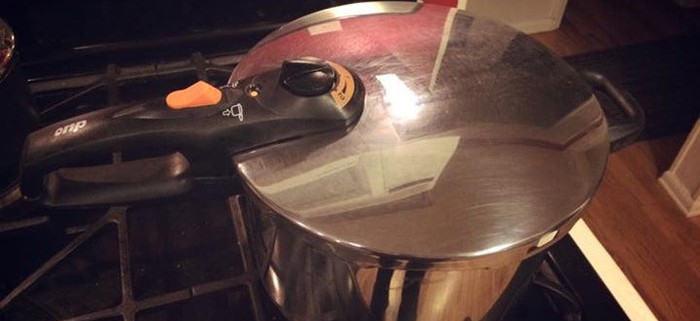 Five Things You Should Know Before Buying a Pressure Cooker
Buying an electric pressure cooker can revolutionize your kitchen and eating habits. Not only do pressure cookers allow you to cook meals much more quickly, they lock in the vitamins and nutrients that are often lost when cooking in a more conventional way. It's not just your food that benefits either; an electric pressure cooker will use less energy and save you money.
Here are five things to consider when you're shopping for a pressure cooker.
They're safer than ever before
The first thing you should know about modern pressure cookers is that they have been designed with enhanced safety features. When choosing your cooker, make sure you look for features such as a locking lid, primary and secondary pressure releases, temperature monitors and lid close detection systems.
What size do you reallyneed?
You can save yourself some money by buying a smaller pressure cooker, but you need to make sure that you get one that is big enough for what you need. The smallest cookers are generally 4-5L but would not suit any more than two people. The largest cookers can be up to 8-9L and are perfect for a large family, or for if you want to freeze meals for another day. Buying on a budget and not being able to cook the amount of food you need is very frustrating, so it's best to go for as large as you can afford. However, remember that you can only fill 1/2 to 2/3 of the cooker with food.
Stick or non-stick?
It is widely accepted that non-stick materials and pressure cookers don't mix well. A high quality pressure cooker can last for many years but if you opt for one with a non-stick finish then you are likely to find it needs replacing much sooner. However,non-stick accessoriescan make cleaning easier and can be replaced much more easily.
Pressure levels vary between cookers
Checking what pressure level a cooker can achieve will save any disappointment when you get it home. Recipes that require a 15 psi can be cooked at lower pressures but they will take longer. If you want the fastest cooking time possible then you need to ensure that you choose a pressure cooker with the highest psi.
Look out for the warranty info
Pressure cookers are designed to last for a long time and you should't need to replace it, or any of its parts, for many years. Make sure you know how long thewarranty is when you're choosing your cooker. Many come with a lifetime warranty (which you will find listed in many money management tips as something that is always worth it!) and this will make your cooker even more cost effective.
A pressure cooker is a handy investment for your home. They will last a long time and you can get some tasty meals out of them. The more you use them, the more you may even want to cook!
Image by mole555, used under Creative Commons license
https://geniuscook.com/wp-content/uploads/2015/07/pressure-cooker.jpg
525
700
Elena and Alfredo
https://geniuscook.com/wp-content/uploads/2014/02/gc-logo2.png
Elena and Alfredo
2015-07-24 16:02:26
2016-02-18 05:46:50
Five Things You Should Know Before Buying a Pressure Cooker