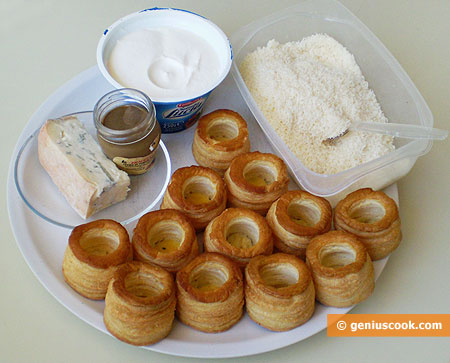 Making Puff Paste Baskets with Cheese and Truffle Cream
You can make baskets following these guidelines Making Puff Paste Baskets. You can bake them from dough bought in a store or make the dough yourselves. Here we recommend you a way to Make Puff Paste that will be good both for sweet and non-sweet pastry. We added paste made from white truffles to the cheese cream to give the dish a light musk flavor. In combination with Gorgonzola's characteristic pungent taste, the cream turned out exemplary. Truffles are believed to be an aphrodisiac, so this dish is excellent for a romantic supper.
Ingredients for Puff Paste Baskets with Cheese Cream
10-12 baskets
0.1 lb Gorgonzola
4 tablespoonfuls grated Parmesan
0.2 lb ricotta
0.09 lb truffle paste
Making Puff Paste Baskets with Cream
Put ricotta, grated Parmesan, Gorgonzola and truffle paste into the blender. Whip the mixture up at a low speed.
Fill the baskets with the cream and top with olives.