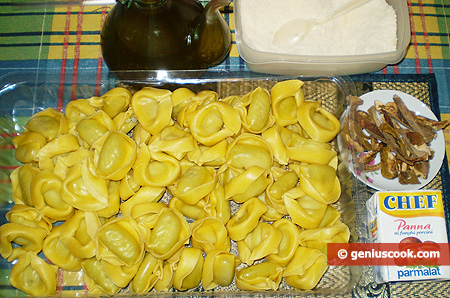 Tortelloni is stuffed pasta somewhat like meaty dumplings or fish dumplings. We buy them ready-made since we have them sold in many shops where often a whole family is working making them according to home recipes.
If you don't have this pasta sold, you can make it at home easily. You will need 2 eggs + 2 yolks and a spoonful of olive oil for 0.6 lb flour for tortelloni. For stuffing mix ricotta with boiled and cut-up spinach.
Ingredients for Tortelloni in Cream and Mushroom Sauce
Tortelloni with ricotta and spinach: about 1 kg.
Cream: 200 ml.
Dried porcini mushrooms (or ceps): 20-30 gr.
Water: half cup.
Cream cheese: 100 g.
Olive oil: 3-4 tbsp
Flour 1 tbsp without a hill.
Salt, white pepper: to taste.
Grated Parmesan.
Recipe for Tortelloni in Cream and Mushroom Sauce
Put mushrooms in water for half an hour.
Pour some olive oil into a stewing pan and fry the flour a little, then add finely chopped mushrooms. In a couple of minutes pour in strained water from mushrooms.
Add cream, stew the sauce until it gets thick.
At the end add cheese; as soon as it melts, turn off the heat.
Put a large pan with water on heat.
When the water begins to boil, put in tortelloni. Wait until the water boils again and go on boiling for 5 minutes.
Strain them through a colander and put in the sauce.
Give it a good mix-up and warm for another couple of minutes.

Serve

Tortelloni

immediately

hot

, sprinkle

with grated

Parmesan.