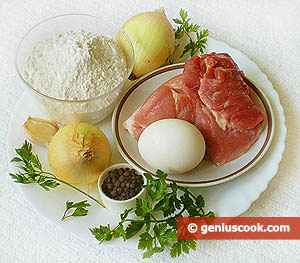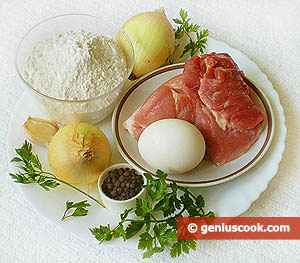 Although dumplings are said to have originated in China, the similar dishes are found in different cuisines worldwide. Dumplings appeal to most every appetite.
You can serve it as a first course (like soup) or as the main dish (with sauces, butter, mayo or sour cream). Russian dumplings are always stuffed with a raw ground meat compared to Italian tortellinis that come with boiled meat.
In Russia, dumplings are traditionally made by the entire family. Merry talks and jokes make the cooking process faster. It is so boring and tedious to make dumplings by yourself.
We made Russian dumplings with Italian sage sauce. Try our international dumplings recipe.
Ingredients for the Dumpling Filling
400 g pork or beef (you can use both)
2 onions
2 garlic cloves
Ground black pepper, salt
Ingredients for the Dumpling Dough
2-2 ½ cups (500-600 g) flour
1 egg
2/3 cup (200 g) cold water
Ingredients for the Sauce
5-6 sage leaves
3 tablespoons (50 g) butter
Grated Parmesan cheese
Recipe of Homemade Dumplings
Wash meat and grate with onions and garlic.
Season with salt and pepper to taste. Mix well.
Pour cold water in a bowl and beat the egg in.
Beat the egg with water and stir in flour.
Knead dough until smooth and no longer sticky.
Shape the dough into a ball and place under the bowl for 20-25 minutes.
Meanwhile, make the sauce.
Wash and finely chop sage leaves.
Melt butter in a frying pan.
Put the sage leaves and sauté over low heat for 3-4 minutes.
When the butter obtains sage caramel flavor, turn the heat off. Make sure not to overcook sage leaves.
Now, take out the dough and roll out into a thin layer.
Cut out circles of the dough with the help of a glass or a cup.
With a little spoon, put some meat filling in the middle of each dough circle.
Fold the circles and stick the edges together.
Bring 3 liters of water to a boil in a deep pan.
Put the dumplings into boiling water.
Stir for two minutes to ensure they don't stick to the bottom.
When the dumplings float, cook for more 10 minutes.
Remove the dumplings with a skimmer, put into the sauce and toss quickly.
Top with grated Parmesan cheese and serve hot.
https://geniuscook.com/wp-content/uploads/2008/12/ingredients-dumplings.jpg
263
300
Elena and Alfredo
https://geniuscook.com/wp-content/uploads/2014/02/gc-logo2.png
Elena and Alfredo
2008-05-21 08:59:24
2014-01-26 20:43:28
Homemade Dumplings