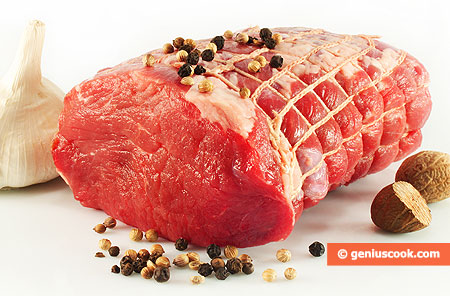 You can get a delicious dish by roasting or baking a big chunk of beef. You'll have to get good quality meat for your roast beef, tender meat from a young animal. Beef is usually slightly underdone, soft and rose-colored in the centre, sporting the true color of fresh meat.
Ingredients for Roast Beef
2.2 lb beef
half of a nutmeg
1 garlic
pepper, salt, olive oil
Roast Beef recipe
Rub into the meat a mixture of nutmeg, pepper, and garlic. Let it stand for a few hours.
Pour some olive oil into a deep frying-pan with a thick bottom.
Put it on high heat and wait until the pan gets as hot as possible. Put the meat in and fry it quickly on both sides. Roast beef is done at the highest heat possible during the first 7-8 minutes, then bring the heat down and go on cooking on low heat.
Salt the meat at the end of the process or straight on the plate, or it will lose its juice. The meat should be ready in about 15-20 minutes. If you want to ensure that it is ready, prick the chunk. It ought to give out reddish semi-translucent juice.
https://geniuscook.com/wp-content/uploads/2010/06/ingr1.jpg
296
450
Elena and Alfredo
https://geniuscook.com/wp-content/uploads/2014/02/gc-logo2.png
Elena and Alfredo
2010-06-10 05:20:50
2010-06-10 05:20:50
Making Roast Beef