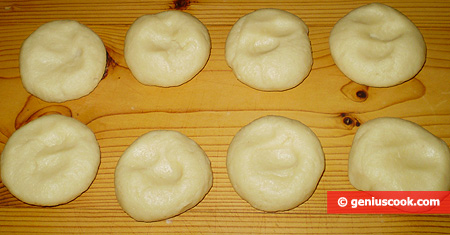 Here's a recipe for a cake with a rich coco flavor. It is tender as tender can be, being made of fragile thin layers and delicious cream. Cream for this cake can be made custard, like you used to cook it, or on this recipe Custard
Ingredients for dough
Flour: 550 gr.
Almond flour: 100 gr.
Butter: 150 gr.
Mascarpone cheese or Philadelphia 50 gr.
Vinegar 1 tbsp
1 egg.
Pinch of salt.
Ingredients for cream
Cream 35%: 300 ml.
Custard: 1 cup.
Butter: 100 g.
Coconut shaving 1 cup.
Sugar: 100 – 150 gr.
Recipe for Coco Cake
Chop flour mixed with butter into small crumbs, put into a dish and place into the fridge for 3-4 hours.
After that add almond flour, vinegar, salt, cheese, egg, and knead the soft dough. If it is sticky add some more flour.
Divide the dough into 8-9 balls, place them into the fridge for an hour.
Roll out each ball finely.
Put a plate over each rolled-out ball and cut out a round layer, diameter 24 cm.
Don't take the cut-off dough away from the baking tray. Prick each layer with a fork.
Bake layers at 390 degrees for 5 minutes till they become light nicely golden.
Beat the cutoffs into crumbs.
Make cream by whipping cream with butter, sugar, custard and coco shavings.
Spread the cream over the layers putting them on top of one another. Better do it in a split form.
Put it away into the fridge for 24 hours.
Smear the remains of the cream on the sides of the cake and sprinkle with crumbs. Decorate as desired, for example, as we have – candied cherries and mint.
https://geniuscook.com/wp-content/uploads/2013/09/pasta-pezze.jpg
235
450
Elena and Alfredo
https://geniuscook.com/wp-content/uploads/2014/02/gc-logo2.png
Elena and Alfredo
2013-09-20 18:45:29
2013-09-20 18:45:29
Making a Coco Cake