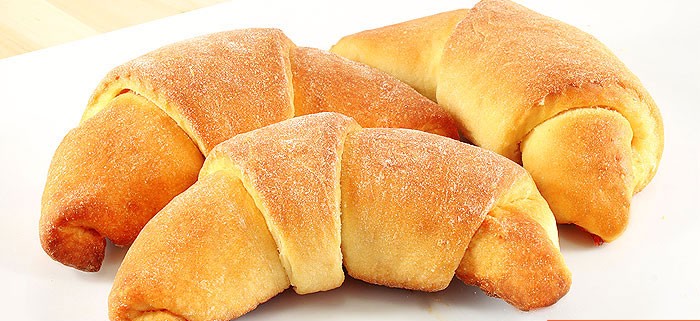 Italian Croissants Cornetti with Quince Jam
Coffee and Cornetti constitute a traditional Italian breakfast. Cornetti are baked both unfilled and with sweet fillings – Nutella, chocolate, or various jams.
The dough can be simply yeast dough, which is spread with melted butter, or puff yeast dough.
Today we introduce you to the recipe Cornetti from a simple yeast dough, although it still has some features.
Malt, which is added, gives a special power of yeast, that make the dough is very soft and fluffy.
A glucose syrup will not grow stale quickly finished product. With syrup Cornetti be soft and tender, even after a few days.
However, if you don't have these ingredients, it does not matter. Instead can take the liquid honey or molasses. The result will not differ much.
Ingredients for Cornetti with Quince Jam
Flour: 650 gr.
Milk: 250 ml.
Sugar: 120 gr.
Melted butter: 100 gr. + 50 gr. for greasing.
Eggs: 2.
Fresh yeast: 25 gr.
Malt: 1 tsp
Glucose syrup: 1 tsp
Couple pinches of salt.
Thick quince jam for the filling (or any other).
Recipe for Cornetti with Quince Jam
Dissolve yeast with warm milk, sugar, malt, glucose syrup. Add 3-4 tablespoons of flour. Leave it for half an hour.
Then add all the remaining ingredients and knead soft dough.
Put it in a bowl, cover and leave to ferment for 5-6 hours. It is good to do this in the evening in order to bake fresh Cornetti for breakfast in the morning.
Divide the dough into 2 parts. Roll each into a round cake. Cut into 8 triangles. Grease the surface of the dough with butter.
At the base of each triangle, make a small cut, and put a little jam. Tighten the roll, stretching and bending the tips a little.
Next, Cornetti are put on a baking sheet, grease with butter, and left for 40-50 minutes.
Bake for 20-30 minutes, until Cornetti get golden brown color.
https://geniuscook.com/wp-content/uploads/2014/11/cornetti1.jpg
482
700
Elena and Alfredo
https://geniuscook.com/wp-content/uploads/2014/02/gc-logo2.png
Elena and Alfredo
2014-11-22 11:23:20
2014-11-22 11:25:03
Italian Croissants Cornetti with Quince Jam