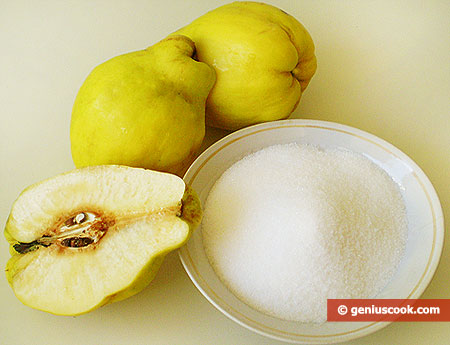 The Recipe for Quince Marmalade
Late fall is the season for quince. This fruit is hard, but very fragrant, and is excellent for making marmalades, jam and jellies. It contains a lot of wholesome pectin. The quince's flesh is hard and its pieces retain their shape when boiled. Thick and strong-flavored quince marmalade is one of the tastiest delicacies of the table.
Ingredients for Quince Marmalade
2.2 lb quince
2.2 lb sugar
0.53 pt water
2 tablespoons lemon juice
Recipe for Quince Marmalade
Cut quinces along and take out the seeds. Then cut them into thin pieces.
Put sugar into a wide pan with a thick bottom, pour it over with water and put on medium heat. Boil it up stirring regularly.
Put quince pieces into the boiling syrup, add lemon juice. Turn down the heat to minimum.
Boil until the marmalade gets thick, don't forget to stir.
Put the hot marmalade into clean jars and cover up tightly.