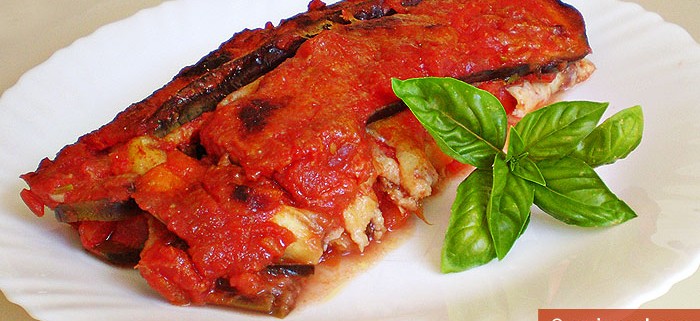 Eggplants with Parmesan Cheese Recipe
They usually love making a kind of a baked pudding from eggplant with tomatoes, mozzarella and grated Parmesan in Naples in summer when there are many fresh vegetables around. The dish is extremely tasty and it can be considered a dietary dish at the same time – any vegetables are wholesome especially when eaten with cheese. On the Italian dish called Parmigiana di melanzane.
Eggplants are very healthy vegetables as they regulate the liver and kidney function, and they contain a lot of iron. So take good care of yourselves and eat them often in any way.
Ingredients for Eggplants with Parmesan Cheese
5-6 eggplants
0.7 lb/ 300 g mozzarella
0.3 lb/ 150 g parmesan
10-15 basil leaves
1.1 lb/ 500 g tomatoes
2-3 garlic cloves
olive oil as much as needed
salt to taste
Cooking Instructions
Wash eggplants and cut along into thin slices.
Dice tomatoes. Chop garlic finely with a knife.
Fry eggplant slices in olive oil until soft. Put them out on a plate.
Then fry garlic, add tomatoes and salt. Simmer for some minutes until moisture evaporates and sauce gets a little thicker.
Cut mozzarella into slices, grate Parmesan finely.
Then take a baking sheet coated with olive oil, place eggplant slices on, salt.
Coat it with tomato sauce and top it with cut basil leaves.
Put a mozzarella layer on, top with Parmesan.
Put another eggplant layer and go on with all the layers until all the components run out. Coat the top layer with sauce and top with Parmesan.
Bake it for about 20-30 minutes at the temperature of 350 F (180 C). Don't serve the dish very hot, let it cool down a little.
https://geniuscook.com/wp-content/uploads/2009/07/Parmigiana-di-melanzane.jpg
475
700
Elena and Alfredo
https://geniuscook.com/wp-content/uploads/2014/02/gc-logo2.png
Elena and Alfredo
2009-07-10 00:00:30
2014-11-15 09:53:54
Eggplants with Parmesan Cheese Recipe