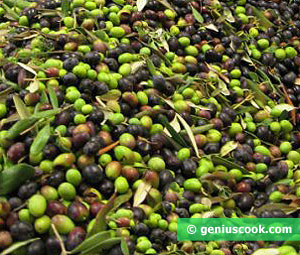 Olive oil is obtained from the squeezed olive fruit. Taking into account olive oil's health benefits as well as its importance for various national cuisines in the world, we have decided to depict the oil extraction process to answer numerous questions of interested people. During olive harvest in November 2007, we toured a small private Antico Frantoio della
Marina olive orchard owned by Nardone family in a little Italian town Marina di San Vito. There we were following all the phases of olive oil extraction.
The cold extraction method of olive oil is conducted without additional heat and without any chemical interference, using traditional mechanical equipment. This allows to preserve natural organoleptical, nutritious and beneficial properties of the final product.
The olives of the "Gentile di Chieti" type were gathered by hands with the help of special combs, packed in bags then, and sent for processing to the farm. The olives were thoroughly washed there. The first stage starts with grounding and pressing olives using mechanic millstones. This turns olives into oily paste which is fed through the opening into special porous plates.
Several plates are then stacked together and cold press method is applied. Pressing forces oily liquid out of plates into special tank and is then fed to separator. Separator breaks water and juice from oil. Residual flows into separate tank while out of the other pipe comes fine fragrant Extra Virgin olive oil of perfect taste and 1% acidity.
This is a virgin oil that tastes and smells like olives it was produced from. One liter of this oil consumes 10-12 lbs of olives.
Apart from its wonderful taste, olive oil is exceptionally healthy. Olive oil is beneficial for those with heart condition in the first place due to its high fatty acids content. It is particularly rich in monounsaturated acids that prevent cholesterol deposits in the blood vessels. These acids lower bad cholesterol levels and increase good cholesterol content which helps against atherosclerosis.
Other health benefits of Extra virgin olive oil:
Phenols (antioxidant agents). They destroy free radicals and, thus, slowing down ageing of cells and lowering the risk of cancer.
Oleanolic acid (80% content in olive oil). It is essential compound for nervous system development and building of strong bones in kids. It also benefits adults.
The oil is a good source of vitamin E. Its major function is to prevent the combustion of polyunsaturated fatty acids.
Pro-vitamin A (beta-carotene) is another antioxidant that helps clear blood and prevents thyroid gland disorders.
Chlorophyll helps our cells to increase oxygen uptake, purifies the liver and boost hemoglobin levels protecting from anaemia. It also helps against piles.
Note: It would do you good if you drank 1-2 tablespoons of extra virgin olive oil every day. Doing so you get as much nutrients as possible and may stay healthy longer.
https://geniuscook.com/wp-content/uploads/2008/12/olives.jpg
255
300
Elena and Alfredo
https://geniuscook.com/wp-content/uploads/2014/02/gc-logo2.png
Elena and Alfredo
2008-05-16 08:57:14
2014-01-27 16:08:29
Extra Virgin Olive Oil