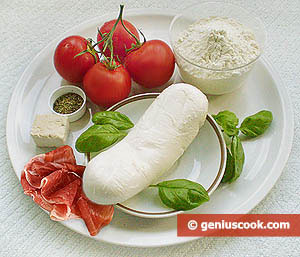 Pizza with Prosciutto Ham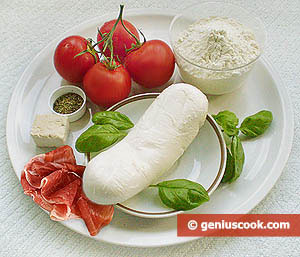 Sometimes you will want to enjoy a rich and high calorie pizza.
Try this popular Italian recipe for pizza al prosciutto (prosciutto ham).
All the ingredients go well in this pizza, which creates a wonderful taste.
Prosciutto is a dry-cured ham. The process of making prosciutto is the following: raw ham is salted and hung in an airy place where the ham ages for 8-14 month.
Prosciutto is usually sliced very thin and it has a superior, deep and spicy taste. 100 g of Prosciutto supplies from 150 to 500 cal (depending on sort) and contains 21-26 g proteins.
For this recipe, we use the prosciutto with low salt and fat content.
Ingredients for Pizza with Prosciutto Ham: Dough
1-2 cups (about 300 g) high grade flour
15-20 g yeast
Salt to taste
½ cup (120-150 ml) water
Ingredients for Pizza with Prosciutto Ham: Filling
200-250 g tomatoes
100-150 g mozzarella
100-150 g Prosciutto ham
Olive oil to taste
A couple of basil leaves
Oregano, salt to taste
Recipe of Pizza with Prosciutto Ham
Dissolve yeast in warm water and add salt to taste.
Make dough, stirring in flour steadily.
Knead until the dough is smooth and no longer sticky. Shape the dough into a ball, put in a bowl and cover with kitchen towel.
Let rise for at least 1-2 hour.
Then take the dough, punch down and roll out a thin circle.
Crimp the edges of the dough to form a rim to enclose the topping.
Preheat oven to 420-480 F (220-250 C).
Top the dough with finely diced tomatoes, pour olive oil over and sprinkle with oregano.
Transfer the dough to a baking sheet (preferably baking stone).
Then bake for 5 minutes.
Remove from the oven, put mozzarella slices on top and add salt to taste.
Place in the oven again. As mozzarella starts melting, pizza is done.
Remove from the oven, put prosciutto slices and basil leaves on top.
Serve.
https://geniuscook.com/wp-content/uploads/2008/12/ingredients-prosciutto.jpg
257
300
Elena and Alfredo
https://geniuscook.com/wp-content/uploads/2014/02/gc-logo2.png
Elena and Alfredo
2008-05-14 13:29:22
2017-03-13 15:21:06
Pizza with Prosciutto Ham