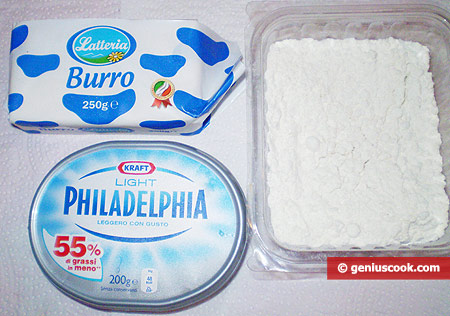 The Recipe for Puff Paste
Making this puff paste takes some time, but the process is not difficult. It is a convenient ingredient, you will make delicate and delicious dishes with it.
If you use ricotta, the paste will come out soft and virtually weightless, if you use Philadelphia, it will be harder and more crumbly. The more you fold it and roll it out, the softer and thinner the layers will be.
Such false puff pastry cook Italian hostess to bake baskets, then filling them with something sweet. From this puff pastry can bake thin crusts for pies, cakes or pies – with meat, cheese, mushrooms, fish. And you can also bake the puff with different types of sweet fillings.
Ingredients for Puff Paste
0.5 lb flour
0.5 lb ricotta or Philadelphia
0.3 lb butter
Recipe for Puff Paste
Chop flour and butter into large crumbs.
Add ricotta or Philadelphia.
Mash it with flour and butter to get large lumps.
Put them into a plastic bag and place in the fridge for 8 hours.
Take the cold dough, roll it out into a rectangle, sprinkling with flour. Fold it three times, then put away into the fridge again for about 2-3 hours.
After that roll it out once again, sprinkling with flour if it sticks. Fold it three times again and put away into the fridge for an hour.
Roll out the dough very finely, fold it four times, repeat it three times. After that cool the dough again, and then you can use it.
The simplest dish is sugared tongues. Roll out the dough, drizzle sugar over it, cut into slices and fold them in two. Bake for about 20 minutes at 390 degrees
https://geniuscook.com/wp-content/uploads/2012/09/ingredients.jpg
316
450
Elena and Alfredo
https://geniuscook.com/wp-content/uploads/2014/02/gc-logo2.png
Elena and Alfredo
2012-09-16 18:59:00
2016-05-20 09:00:50
The Recipe for Puff Paste