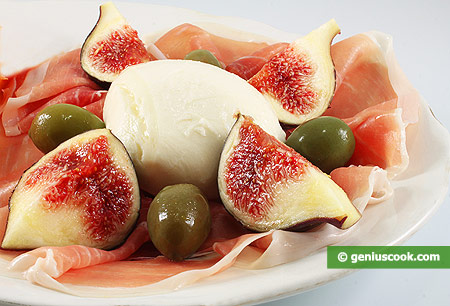 You can treat yourself to this colorful appetizer – known in Italy as antipasto – when the fig is in. Sweet fig goes well with mozzarella, ham, olives. It is served with chunks of peasant bread sprinkled with fragrant olive oil. Strictly speaking there is no recipe, you can take any quantity of the ingredients, it's the combination of the products that makes for the taste.
Ingredients for Appetizer with Mozzarella and Fig
for 1 portion
1 ball buffalo mozzarella, 0.3 lb
prosciutto, dry-cured ham cut into thin slices: 3-4 slices
several olives
Recipe for Appetizer with Mozzarella and Fig
Put out the ham in waves in a circle on a plate.
Put the mozzarella ball in the middle.
Place fig pieces and olives around it.