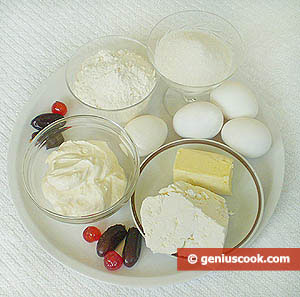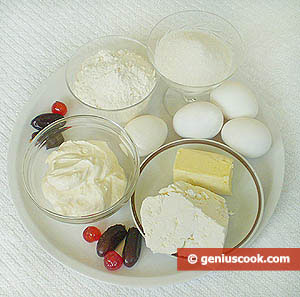 Cottage cheese pie is a tasty, light dessert. Cottage cheese is a rich source of calcium and proteins. This dairy product is very healthy, and you should make more meals with it, especially for kids. Growing kids need calcium to build strong bones. You can serve this pie as a tea time snack when your guests show up. What can be a better treat for them than a good homemade pie? For this recipe, use soft and fat cottage cheese and thick sour cream because it beats quicker.
Ingredients for Cottage Cheese Pie
5 eggs
2/3 cup (200 g) thick sour cream
½ cup (100 g) butter
2/3 cup (200 g) sugar
300 g fat cottage cheese
2-2 ½ cup (500-600 g) flour
1 teaspoon baking soda
1 tablespoon vinegar
Salt to taste
Candied fruit and dried fruit for garnishing
Recipe of Short Paste for Cottage Cheese Pie
Here's how to making short paste for cottage cheese pie.
Beat two eggs with 100 g sugar.
Add 100 g soft butter.
Mix half teaspoon of baking soda with a tablespoon of vinegar.
Add 50 g sour cream and a pinch of salt.
Blend the mixture with a mixer.
Add enough flour to make dough.
Knead until the dough is smooth and no longer sticky.
Shape the dough into a ball and place in refrigerator for 20-30 minutes.
Recipe of Filling for Cottage Cheese Pie
Meanwhile, make the filling.
Beat 3 eggs with 100 g sugar.
Combine cottage-cheese with sour cream, add half teaspoon baking soda and salt to taste.
Mix with the eggs mixture and add 100 g flour.
Turn the mixer to its highest speed and beat the mixture well.
Recipe of Cottage Cheese Pie
Then take the dough out of refrigerator and roll out thin layer.
Put aside a small piece of dough to use it later for filling.
Coat baking pan with oil and sprinkle with breadcrumbs.
Spread dough layer on the baking pan to form a bowl.
Then carefully spread the filling over the dough layer evenly.
Coarsely grate the small piece of dough and sprinkle on top.
Bake for 40-50 minutes at the temperature of 320-360 F (140-150 C).
When the cottage-cheese filling turns golden, the pie is done.
Remove from the form and garnish with candied or dried fruit.
Cut the pie when it cools completely.
https://geniuscook.com/wp-content/uploads/2008/12/ingrecients-cottage-cheese-pie.jpg
297
300
Elena and Alfredo
https://geniuscook.com/wp-content/uploads/2014/02/gc-logo2.png
Elena and Alfredo
2008-05-13 09:46:49
2014-01-26 20:28:21
Cottage Cheese Pie